'Pulses Race' at corporate networking day raising thousands for Sussex children's charity!
Published: 25 Jul 2017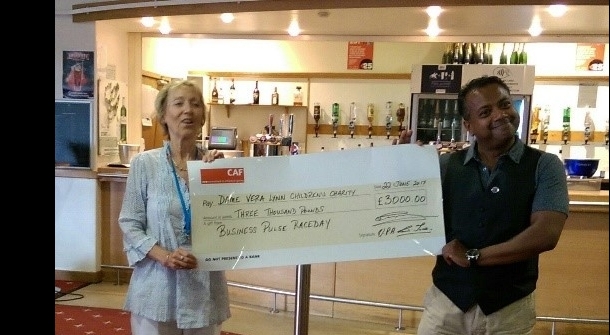 Sussex-based Business Management Consultancy, Business Pulse, raised an incredible £3,701 for Dame Vera Lynn Children's Charity (DVLCC) at their corporate networking day earlier this month.  They were presented with a cheque for £3,000 on the night and this was increased to £3,701 from the proceeds of an auction and bucket collection.  
Held in the Pavilion Suite at the glorious Lingfield Park Racecourse on 22nd June, the event was organised by Business Pulse's founder Nass Elaheebocus, a long term supporter of DVLCC which supports young children with cerebral palsy and other motor learning disabilities. Throughout the day guests enjoyed a three course dinner and evening of racing with a raffle and auction raising funds for the Charity.
Virginia Lewis-Jones, Dame Vera Lynn's daughter and Vice-President of the Charity also spoke to guests about DVLCC's work and the importance of the early intervention service that it offers to families.  Mark Hunnisett, whose daughter Abbie attended Dame Vera Lynn Children's Charity, was then invited to the stage to speak about the difference the Charity made to their lives and how Abbie was taught to do things that they never thought possible - her determination and hard work resulted in Abbie being chosen to represent Great Britain in the London 2012 Paralympic Games in the Club Throwing event and she will be taking part in the forthcoming World Championships this Summer in London. 
Pilar Cloud, Executive Manager of the Charity, said:
"What a fantastic day and a very big thank you to Nass Elaheebocus for holding the event in aid of our Charity and raising so much money.  We would also like to thank everyone who attended for all their generosity and support and Lingfield Park for hosting the event."
Dame Vera Lynn Children's Charity has helped more than 500 families across the South East. It receives no statutory funding and relies entirely on the community to raise the funds needed to be able to offer this vital early intervention service to families.  
Nass recieved a letter of thanks from Dame Vera Lynn for his support to the Charity.