Local students raise more than £21,000 for St Catherine's Hospice
Published: 18 May 2018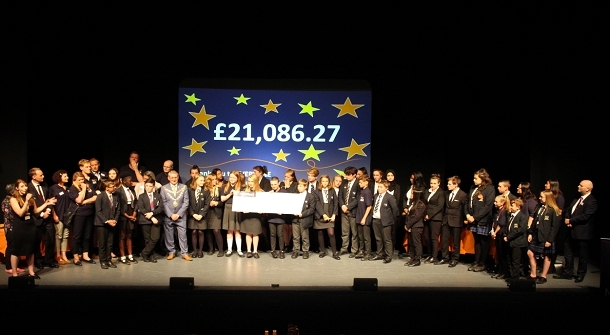 Local school students have collectively raised more than £21,000 for terminally ill people as part of St Catherine's Hospice Five-O Project.
Designed to develop students' business skills, St Catherine's Five-O Project challenged students to unleash their inner entrepreneurs. It asked them to organise fundraising events that would raise a minimum of £1,500 for St Catherine's with the support of business mentors from NatWest who also sponsored the project. NatWest gave the students £50 as an initial investment and a business skills workshop during the spring term challenge.
The pupil's amazing achievements were recognised at an awards ceremony on Thursday night (17 May) at the Hawth Theatre in Crawley.
The ceremony gave pupils from Hazelwick School, Thomas Bennett Community College, Oriel High and St Wilfrid's School in Crawley, and Tanbridge House School in Horsham the chance to showcase their fundraising ideas to a judging panel in a bid to win an award.
Pupils were also supported by family, friends and teachers, as well as his Worshipful, the  Mayor of Crawley, Councillor Brian Quinn and Mayoress, Sue Quinn, councillors from Caterham, Oxted and Billingshurst, Trustees from St Catherine's and senior NatWest staff.
Innovative presentations showcased varied fundraising ideas including a live head shave via Facebook. Schools scooping an award on the night included:
Hazelwick School - Most money raised
St Wilfrid's School- Most pounds per pupil
Thomas Bennett Community College - Best presentation
de Stafford School (Team 1) - Most innovative fundraising idea
Tanbridge House School - Digital Marketing Award.
John Redfern, Head of Corporate Banking (South East) at NatWest, said: "This is the seventh year we've supported St Catherine's Five-O Project. Each year we're completely blown away by the dedication and inventiveness of the students involved. They've worked really hard to raise as much money as possible for the hospice. For us to be able to share our professional knowledge to help them bring their ideas to life and achieve their fundraising goals is a privilege."
Tom Abbott, Community and Events Fundraising Manager at St Catherine's, said: "It was great to hear the fantastic ways our schools raised money for us. I hope they're as proud of themselves as we are. Without our supporters, we wouldn't be able to care for local terminally ill people when it's needed most. I'd like to thank all our school teams, their teachers, parents and NatWest mentors for making this year's Five-O Project the most successful yet!"
If you are interested in finding out how your school can get involved in next year's Five-O Project please contact Emily Bradbury and Keely Bicknell in St Catherine's Community Fundraising Team on: comfun@stch.org.uk or: 01293 447316.