4 Ways to Challenge Yourself This Year
Published: 29 Jan 2019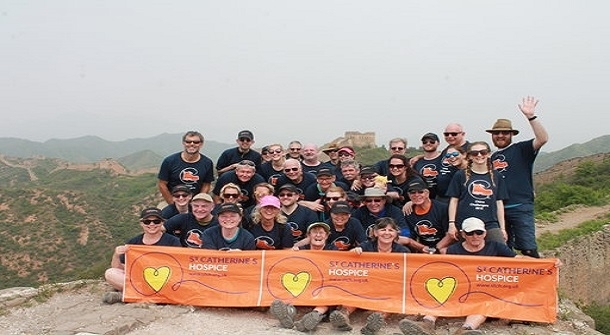 There's no time like the present to set yourself a challenge, and with a new year dawning, make 2019 your year of charity challenges. St Catherine's Hospice has a whole range of exciting events to help you on your way:
RUN
Join Team StCH for a running experience you'll never forget, at two of the UK's largest Marathons.
The London Marathon is one of the greatest in the world, and the largest in the UK. Taking place on 28 April 2019, this event is one of the most inclusive marathons with a wide range of people taking part each year. The Brighton Marathon, the second largest in the UK, takes place on 14 April 2019. Beginning at Preston Park, this run takes you past breathtaking landscape for a view like no other. Whether this is your very first marathon, or you've been running them for years, this is the perfect challenge to set yourself this year.
What's more, St Catherine's have an exclusive online running hub, made up of like minded individuals, to support you with training and fundraising, and an unrivalled team of St Catherine's cheerers who will support you with each step you take on the day.
WALK
There are many reasons for taking on a charity walking challenge; from the life-long memories and friendships you'll make, to raising money to help terminally ill people in your community. St Catherine's has two upcoming treks to tempt you with.
If you are an adventure lover who enjoys breathtaking landscapes, being part of an inspiring team and would like a challenge closer to home that can be completed in a weekend, then the hospices Lake District 5 Peaks Challenge, from21– 24 June 2019, is for you!
Or maybe you're an intrepid explorer who is looking for the adventure of a lifetime, would like to spend three days trekking across the magnificent Sahara, and experiencing the exotic Moroccan culture? If so, the local hospice invites you to join them for their magical Sahara Trek 2020 from 26 - 31 March 2020. If you'd like to find out more about this exciting Moroccan adventure and hear from those who have completed a similar challenge, go along to the information evening at St Catherine's Hospice, Malthouse Road, on 28 February from 6.30pm.
RIDE
Why not take to the saddle for St Catherine's at one of this year's bike rides? With a choice of distances and locations, there's something for everyone.
Taking place on Sunday 14th April 2019, BM Ride will offer cyclists of all abilities the exclusive opportunity to enjoy the sights of Brighton over a 50km distance. Ride Reigate, which takes place on Sunday 7 July 2019, has three routes to choose from - 100k, 50k and a unique 25k family route, and even includes a celebratory free beer from Pilgrim Brewery at the end! And the biggest cycling festival in the UK, Ride London, starts in The Queen Elizabeth Olympic Park in London on Sunday 4 August 2019. The 100 mile route will take you through the closed roads of the capital and onto leafy Surrey's stunning country roads and hills.
ABSEIL
If you fancy a more unusual challenge, St Catherine's Hospice is calling all thrill-seekers to combat their fears and join them for their 100ft Hospice Hero Abseil on the outside of the Sandman Signature Hotel in Crawley.
For the first time this year, you can abseil under the stars on the evening of Friday 5 April for an extra element of excitement! Or on Saturday 6 April, scale the wall in true Spiderman style and enjoy the expansive views during the daytime.
Alternatively, local businesses who dare to go over the edge are encouraged to enter teams and support their local hospice during the daytime on Friday 5 April.
----------------------------------------
With every challenge, the fundraising team will be on hand to support you throughout the entire process, from submitting applications, fundraising and training, to celebrating with you as you complete your challenge!
So what are you waiting for? Take on a challenge for St Catherine's Hospice today, and raise funds to care for local terminally ill people when life comes full circle, so that no one has to face death and loss alone.
To find out more or to sign up to any of the above challenge events, please visit www.stch.org.uk, call our events team on 01293 447355 or email events@stch.org.uk.