Fetcham Park Brings 'The Shoreditch Effect' to Surrey
Published: 13 May 2019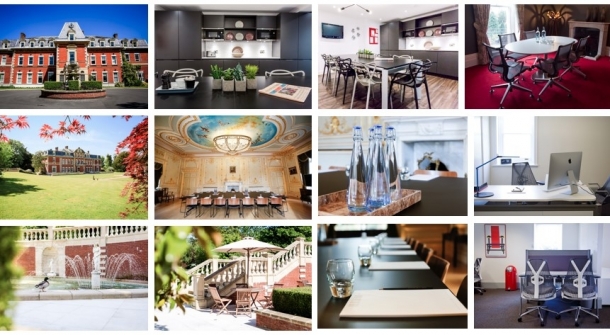 Surrey's leading business centre, Fetcham Park (which are part of gdb Members The Wilky Group), near Leatherhead, is proving popular with businesses from the county and beyond in the wake of a new trend which is influencing how and where people work.
'Creative congregation' is the latest buzzword for the criteria that helps people choose where to live and work. Also known as 'The Shoreditch Effect' this trend reflects that increasingly, people make this decision based on factors including busy high streets full of local shops, aesthetically pleasing buildings and approachable neighbours. Rather than polished but generic offices, the equivalent of sterile shopping malls, businesses are being drawn to buildings with character that inspire creativity, relaxed interaction and brainstorming.
At Fetcham Park, flexible premises, value rents, a variety of office spaces, break-out areas and a range of lifestyle services, are some of the key selling points attracting clients to the prestigious location. Plentiful car parking and proximity to all major transport links add to Fetcham Park's appeal for those looking to avoid the commute into London.  
Fetcham Park's House Manager, Kate Ainsworth, comments: "We love the concept of Creative Congregation as the phrase sums up Fetcham Parkperfectly. Since 1999, we've offered modern businesses a space to thrive while respecting the heritage and character of this unique building. At every stage we have catered to the ever-changing technological needs of our clients. We like to describe this as mixing heritage with modernity.
Fetcham Park believes in a flexible agreement designed to meet the specific needs of each business. From open plan offices to meeting rooms and breakout areas, we tailor a bespoke solution based on the optimum use of your budget. By facilitating face-to-face interaction and the on-going management of service delivery with our dedicated Client Services Team, office occupiers and their visitors alike can relax and be creative in a professional environment with modern technology on-site."
Fetcham Park offers a variety of contemporary serviced office space, breakout spaces away from the office, and a range of lifestyle services including fitness classes and car valeting. In addition, we have six acres of beautifully landscaped grounds - what better way to talk through creative ideas or complex situations than by taking a stroll with your client around the grounds before returning to get the ideas down on paper.
Tucked away in leafy Surrey, Fetcham Park is removed from the distractions and noise of the city, yet less than an hour from London and close to the M25. A secluded place to work and meet with all the facilities required to help modern businesses thrive. To get in touch email hello@fetchampark.co.uk