Gatwick Airport Trade Fairs Competition
Published: 26 Mar 2019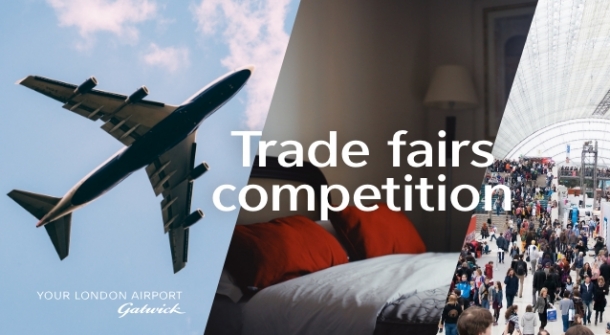 Competition to win £2000 towards flights, hotel and entry to an international trade fair
Gatwick contributes £5.3bn to the economy and - like the airport - local businesses and SMEs are vital engines that help to drive the region's economy.
To help support local businesses, we spend around £135 million directly with local and regional suppliers each year because the airport actively focuses on supporting and improving opportunities for local business to supply the airport.
A large proportion of Gatwick's goods and services are procured through long term framework contracts, so we can form strong partnerships and many of these partners are locally based. We work closely with all of our partners to encourage and develop a strong and sustainable local supply chain.
To provide further support to local businesses, Gatwick has embarked on a partnership with the Department of International Trade (DiT). The mark the start of this partnership we have launched a competition to offer three local SMEs the chance to apply to visit an international trade fair relevant to their sector.
If you are an SME in Sussex, Kent, Surrey and Croydon then now's your chance to enter our competition to win flights and a hotel for two people to attend a trade show of your choice*, including the cost of airfares and contributions towards accommodation and/or exhibition fees.
You simply need to choose from the list of trade shows and tell us why your company would benefit from attending the trade fair in 150 words or less. What have you got to lose?
Local SMEs will have until midnight on 1 April 2019 to enter with the winners being announced on 29 April 2019. Competition winners will be judged by a joint committee from Gatwick and the Department for International Trade.
Find the list of Trade Fairs here: