gdb Member Chailey Heritage Foundation are seeking corporate funders
Published: 09 Aug 2019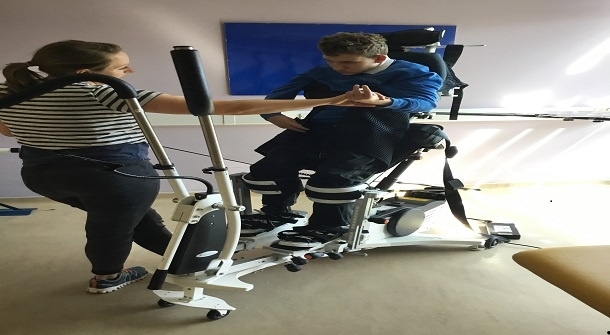 Charity for children with disabilities seeks companies that can GIVE BIG
Chailey Heriage Foundation are seeking corporate funders to support their matched funding campaign, the Big Give Christmas Challenge.
The charity is aiming to use the funds to purchase a specialist piece of exercise equipment called an Innowalk. Having recently had one on loan, they have seen what an incredible difference this can make to young people with complex disabilities. Similar in appearance to a cross trainer, it is adaptable for a range of heights, and the person using it doesn't need to self-propel, meaning that those with limited mobility can get their heart going. It also strengthens muscles and bones, improves digestion, helps concentration and lots more.
A parent, whose son, Mikey, has relied on a wheelchair for the last 7 years told the charity, "It's the first time that he has experienced moving his arms and legs in a natural walking pattern since he lost mobility. Mikey has always loved to be active and this is giving him a way to move as nothing else can do. I really do think given its adaptability that it really is a "must" for Chailey."
The charity is currently looking for companies willing to pledge £100 or more as part of the Big Give Christmas Challenge, so that they can buy one of their own. This online matched funding campaign goes live in December but the charity needs to confirm pledgers by 30th August.
If you would like to learn more about being a pledger and the PR benefits of supporting our appeal, get in touch with Jenna Durdle, the charity's Fundraising Manager: jdurdle@chf.org.uk or call 01825 852 724.