gdb Members Sofitel London Gatwick have created a whole Vegan Menu for its relaxed Urban Café!
Published: 02 Aug 2019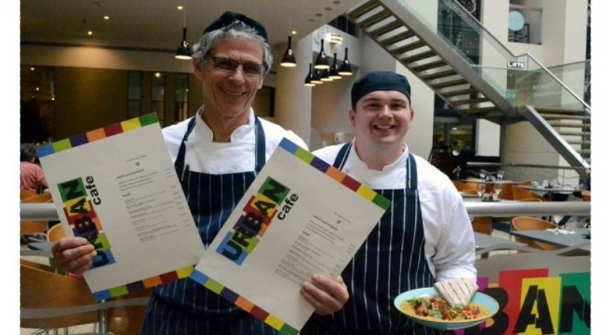 Vegan diners visiting Sofitel London Gatwick, the only premium hotel linked directly to the airport's North Terminal, will no longer have to hunt through a menu to find appropriate dishes. 
In response to customer feedback, the hotel's chefs have created a stand-alone vegan menu for its relaxed Urban Café, situated in the heart of the hotel's atrium.
With three sharing tapas and eight main courses, the vegan menu sits alongside the café's already extensive choice of dishes from around the world and has been months in the planning. The Sofitel chefs have researched and trialled dishes using some of the new vegan ingredients available in the UK, such as tempeh - a traditional Indonesian soy product - and coconut `cheese', combining them with seasonal vegetables and familiar staples.
"Vegan diners often get short-changed with a limited choice buried within a busy menu, so we wanted to make life easier for them," says executive head chef David Woods. "Not all vegan alternatives to meat and dairy ingredients produce restaurant-standard results, so it was a long process to get this right so that every dish delivered on appearance, texture and flavour. I think even the meat lovers will be choosing dishes from this menu, so our vegan diners won't be able to keep it to themselves."
Instrumental in advising the team has been staff chef Adam Payne who is a vegetarian.  During the trial process, he introduced the chefs to vegan ingredients which he uses at home, challenging them to spot the difference against familiar products.
"Sometimes even my meat-loving colleagues couldn't tell the difference," he says. "I eat out a lot as part of my research as a chef, and invariably choose vegan rather than vegetarian options, but it is so disappointing to pick up a menu and spot just two choices. A lot of restaurants still haven't caught up with the huge growth in veganism."
A recent survey by comparison website Finder showed that, while around one percent of the British population is currently vegan (around 700,000 people) over the next year, 2.2 million people will adopt veganism.  Also driving the demand for more vegan dishes on menus has been diners adopting a `flexitarian' approach. According to market research company Mintel, one in three British meat eaters reduced their meat consumption in the six months to July 2018.
Beautifully presented with generous portions, the Urban Café's vegan dishes range from tongue-tingling Bombay Dhal and Rice Noodles in a Spicy Asian Broth, to a succulent `No Beef' Burger and pasta favourites.  The Urban Café is open for lunch and dinner, seven days a week, and is situated near Sofitel London Gatwick's two AA-rosette restaurant, La Brassiere. There is no need to book for the Urban Café.
To find out more about the hotel, or to book a stay, visit: http://bit.ly/SofitelLondonGatwick or alternatively, call  01293 567 070 and ask for Guest Relations.
Find us on Facebook at @Sofitel Gatwick London
Twitter: @SofitelLondonGA
Instagram: @SofitelLondonGA