gdb Members St Catherines Hospice has a 'lotto' reasons to celebrate as it's lottery turns 21!
Published: 12 Aug 2019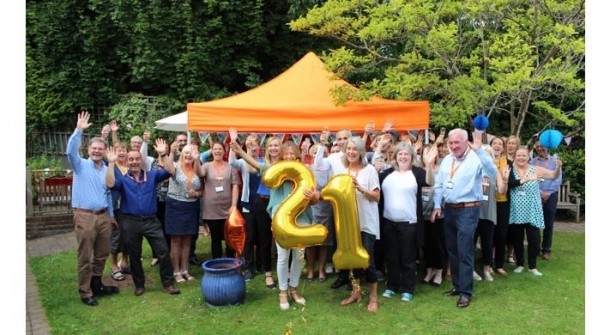 St Catherine's Hospice Lottery is turning 21! And to help celebrate the local charity is calling on the community to make the milestone even more special by signing up to support them.
Over the last 21 years, a whole 'lotto' fun's been had as the lottery has grown in size and raised significant funds for the hospice. To mark the occasion, staff and volunteers came together at St Catherine's to raise a glass of fizz, enjoy some birthday cake, and toast the successes of the past 21 years.
Since starting in 1998, St Catherine's Lottery has raised more than £12 million pounds. And helped care for hundreds of terminally ill patients and their families and friends.  
Each week, more than 17,000 lottery numbers go through the draw, with each member helping to fund expert end of life care for others in their community. If you're not already one of them, now's the perfect chance to join them!
St Catherine's Lottery is a fantastic way to support your local hospice whilst getting the chance to win a prize for yourself. For just £1, each lottery chance gives you the opportunity to win up to £1,000.
The saying goes, 'you've got to be in it to win it' and that's true for Gordon, who won a prize just a few months after joining the hospice's lottery. He said, "I try and support St Catherine's wherever I can, but the lottery is the simplest, easiest way for me to do that as money just goes straight from my bank account to this amazing cause. Signing up to the lottery was quick and straight forward, and it's a great feeling knowing that I'm making a difference every month by playing."
Patricia is another lottery member who recently got lucky. She said, "I've been playing the St Catherine's Lottery for a number of years so winning was a lovely surprise. I treated my godson to a trip to the theatre with my winnings."
Mandie Pastars, Lottery Assistant at St Catherine's said, "Each week our lottery raises more than £17,000 towards local hospice care. This phenomenal amount means that our lottery members pay for nearly a whole day of care for local people every week. Their huge contribution helps many others in their community receive the care and support they need as they face death and loss. We're hugely proud of all that our lottery has achieved in the last 21 years. And with the support of even more people in our community, we look forward to continuing to grow over the next 21. Everyone's continued support will help to raise even more money so we can care for even more people in the future."
Zoe Dolding, Individual Giving Co-Ordinator at St Catherine's added, "The significant achievements of our lottery wouldn't have been possible without the loyal and ongoing support of our lottery members. There's no better time than our milestone birthday to say a big thank you!"
For more information or to join the lottery please visit www.stch.org.uk/lottery or call the Lottery Team on 01293 447373. Terms and Conditions apply.