gdb Members The Creative Group CEO honoured to speak at Shanghai's Super Classic
Published: 11 Jun 2019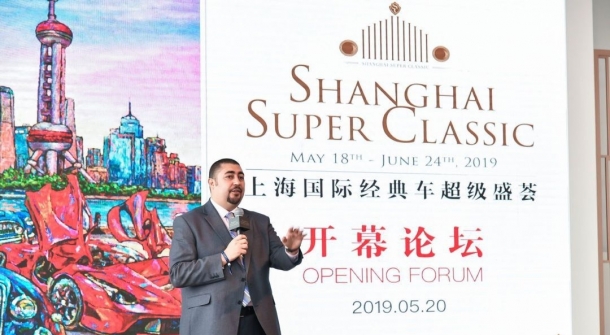 The Creative Group CEO Matt Turner was invited to the first ever Shanghai Super Classic (SSC) event to discuss selling sponsorship for the event, which takes place from 18th May to 24th June 2019. The event, which is expected to host 200,000 visitors, celebrates a variety of Shanghai's arts and culture, including fashion, jewellery, motors, and technology, with the aim of creating an equally impressive impact on the domestic and foreign auto and art industries.
Matt had the honour of speaking at the opening ceremony on the 20th May at Shanghai Port International Cruise Terminal on the North Bund. The opening ceremony attracted classic car enthusiasts from around the world including Curator Zhou Yi, Co-curator Diana Liu, the "Prince of Gymnastics" Li Ning, famous New York street artist James Goldcrown, and philanthropist & founder of Shanghai Haikangbei Foundation, Betty Cao.
SCC is very similar to the Goodwood Revival, which takes place annually in West Sussex in July. Zhou Yi, together with her collaborating partner Diana Liu, visited world-renowned automotive events such as the Goodwood Revival for inspiration.
Zhou Yi said: "Goodwood has become a carnival of car culture. In three days, 200,000 people dressed up and attended the event. The event is regarded as a holiday for the families that take part. The Auto Show here in China aims to match that cultural depth and impact. It strives to be a combination of professional industry exhibitions and car culture exhibitions with Chinese characteristics, together with the people's love and embrace for the lifestyle. It is a perfect time to incubate and popularize the automotive culture market here in China."
Compared with European and American car markets, the influence and growth of automotive culture in China is still in its infancy but some see it on the cusp of a boom. How to create a better union and explore the relationships between all things automotive, and China's way of life as it expands has become the top priority of Zhou's plan.
SSC is the first automobile culture and art crossover show in Asia and the team behind it approached the Goodwood Estate who then introduced Matt, as a representative to help. Matt was delighted to visit China and meet with potential brands at the event and was fortunate enough to speak in front of over 400 Chinese media and TV channels.
As a motorsports fan, Matt enjoyed meeting other businesses and exploring the event which boasts an impressive 28 classic cars on show with a total value of over $30 million. Within an area of 100,000 square feet, the Shanghai Super Classic hosts items on loan from the world's foremost classic car collectors, including prized autos such as the 1967 Ferrari 275GTB/4 with an estimated value of over $5 million, the Chinese 1965 Hongqi CA72 which won an award at the premiere car collector's competition, the Pebble Beach Concours d'Elegance, and a 1976 Lamborghini Countach LP400 Periscopio (one of only 110 ever produced).
Other notable attractions include Elvis Presley's and Marilyn Monroe's respective Cadillac Coupe de Ville luxury cars and a collection of Porsche 911 models spanning from Generation I to VII.
The classic cars will be displayed according to two categories, Pre-war and Post-war classic cars, as per international tradition. Additionally, cars will highlight specific eras in Chinese history: the early days of China's reform, the "Opening of China" period beginning in the 1970s, with concept cars representing the country's vision for the future.
Matt, CEO of The Creative Group, said: "I've travelled the world experiencing automotive events and I have to say that for a first-year event, the Shanghai Super Classic is a fantastic event. It's a real honour and privilege to be here and I'm really excited for what the future can bring for the Shanghai Super Classic. I think that over time, with technology, with cars, with influencers, and media attention, this event will be a staple event in the Shanghai calendar and a massive event in the global motoring calendar as well. 
"I'm working with the Goodwood Estate to bring some of their assets and some of their partnerships to other parts of the world. Over the coming months, some of the discussions I will be having will be to bring these assets to Shanghai so that we can partner and integrate with the Shanghai Super Classic for many years to come."
The Creative Group is the parent company of four businesses which includes; Creative Pod, a full-service marketing agency, ECHO, a sponsorship brokerage, Printshop, a full-service printing agency and SquareOne, a market entry specialist.