Local Organisations in Crawley Help Boost Young People's Confidence and Career Prospects
Published: 15 Feb 2019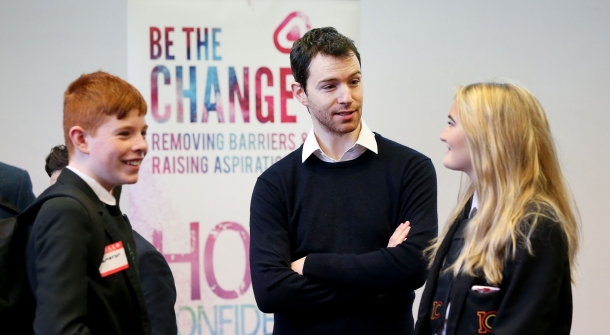 An inspirational programme to help local young people fulfil their potential was launched for a third year running with 100 school students from six Crawley schools on Friday, November 9 2018 at the Charis Centre, Crawley.
Be the Change has been developed by LoveLocalJobs.com and Be the Change co-founder Graham Moore of metamoorephosis to help 13 and 14 year-olds negotiate the gap between education and employment. Business volunteers from the local business community play a pivotal role throughout the programme, providing support and guidance for the young people. The impressive list of businesses supporting include First Central, B&CE, Crawley Borough Council, L3 Commercial Aviation, NatWest, Search Consultancy, SHW and Sussex Community NHS Foundation Trust.
At the ground breaking launch, the students and business volunteers took part in activities that focus on happiness, confidence, hope, relationships and employability.
Andy James, Chief Commercial Officer from Headline sponsor, First Central, said: "We discovered this programme through the valuable work that Hastings Direct were doing and thought it was a really inspirational initiative to support. It's incredibly important to us that we give back to the communities that we serve and it completely resonates with our brand promise, empowering people to get on with what matters."
The schools involved in the programme are: Ifield Community College, Hazelwick School, Holy Trinity Church of England Secondary School, St Wilfrid's Catholic School, Oriel High School and Thomas Bennett Community College.
Steph Hancock, Year 9 Leader at St Wilfrid's Catholic School said: "Wow! What an incredible day the students have had, from the word 'go' they've been encouraged to put their trust in others and take a leap of faith. All have done something today which they never would have done without the ideas and motivation received at Be the Change. I can't wait to see them blossom through the next five sessions."