Mayo Wynne Baxter Announce Promotions!
Published: 16 Apr 2019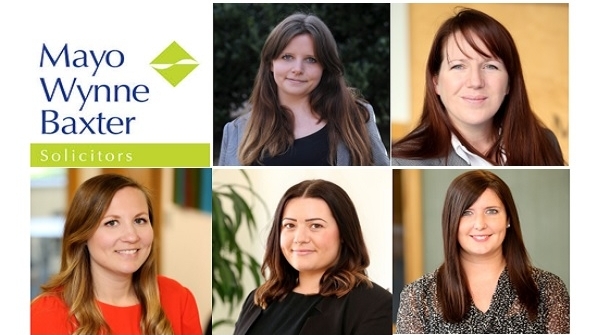 Every year there are opportunities for our legal advisers to apply for promotion and this year, the career progression process was completed in January.
The quality of all the applications was, as usual, very high and the firm is always delighted to see staff wanting to progress.
We are pleased to announce five promotions this year – two Partners and three Associate Solicitors – which took affect on 1st April 2019.
These are: Jo Ironside whowas promoted from Associate Solicitor to Partner.
Jo has been at Mayo Wynne Baxter since 2012 and qualified as a solicitor in 2015. Jo is based in the Lewes office and is the lead solicitor in the firm's Leasehold Enfranchisement Team.  She specialises in residential landlord and tenant matters.
Tia Harrison was promoted from Associate Solicitor to Partner.
Tia is an experienced lawyer who joined Mayo Wynne Baxter in October 2013 having worked at another local firm for three years.  She is a member of Resolution and deals with all areas of separation including divorce, high-net value and complex financial claims, settlements by consent, post and pre-nuptial agreements, child arrangements orders and injunctive relief.
Gail Waller was promoted from Solicitor to Associate Solicitor
Gail works in the firm's Medical Negligence and Personal Injury department, based at our Lewes office. She has been with the firm since 2013. Gail has a particular reputation for client care, understanding that litigation can be a difficult process for people, and that the professional relationship she builds with her clients is as important as the legal advice she provides.
Melissa Johnson was promoted from Solicitor to Associate Solicitor.
Melissa joined Mayo Wynne Baxter's Commercial Department as a Solicitor in September 2015. Melissa acts on a wide range of commercial matters. Melissa works with a range of clients and is known for her pro-active approach to transactions.
Joanna Wooller was promoted from Solicitor to Associate Solicitor.
Joanna Wooller works within the Commercial Property Department and deals with a wide range of commercial property matters.  Joanna is experienced in dealing with commercial leases, subleases and licences, commercial and high value residential sales and purchases, option agreements, overage and complex transfers of part.
Congratulations to them all!