Surveyors are celebrating achieving chartered status thanks to support from Vail Williams
Published: 02 Jan 2019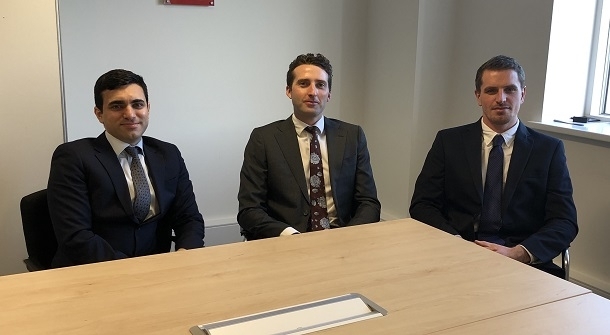 Four trainees qualify as chartered surveyors with support from Vail Williams 
Trainee surveyors Eren Boyraz, Tom Horton, Hugo Langlois and Jamie Mayland completed the assessment of professional competence (APC) this year with Vail Williams achieving a 100% pass rate.
In keeping with Vail Williams' commitment to staff development, the property advisors paid for Eren, Tom, Hugo and Jamie's training. Colleagues within the firm, many of whom are former APC assessors, supported and guided the trainees during the two-year training scheme.
The Vail Williams trainees took part in a three-day training course, internal mock interviews, submitted of a portfolio of evidence, undertook lots of practical experience and were interviewed by a RICS panel to complete the APC.
Matthew Samuel-Camps, Managing Partner at Vail Williams, said: "On behalf of everyone at Vail Williams I would like to congratulate Eren, Tom, Hugo and Jamie on this achievement. We're immensely proud of the hard work and dedication shown by all four and we're thrilled to have been able to support them as they worked towards achieving their goals of becoming chartered surveyors.
"Investing in our staff and their future is so important at Vail Williams. We strive to create a culture where our staff feel supported and fulfilled as they navigate their way through their careers."
Eren, who works in the Business Rates Consultancy team in London, added: "I'd like to thank Vail Williams and my colleagues for the support I have received over the last few years. It has been a challenge but an extremely rewarding one and I'm very grateful to everyone within the firm that has offered advice and guidance."
Tom is based in the Lease Advisory team in Thames Valley, Hugo is based in the Investment team in London and Jamie has recently moved from Thames Valley to work within the Valuation team in London.
For more information about Vail Williams LLP, please visit www.vailwilliams.com or follow us on Twitter at @vailwilliams.
Pic Caption:
Vail Williams APC success: L-R Eren Boyraz, Hugo Langlois, Jamie Mayland