The E.Y.E Project Are Hosting The 1st Gatwick & Crawley Eco-Summit
Published: 04 Oct 2019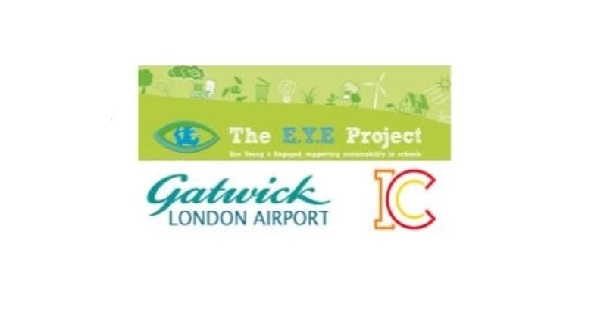 Brought you by: The EYE Project   
Sponsored by: Gatwick Airport
Hosted by: Ifield Community College  
The EYE Project are delighted to invite your school to attend the 1st ever Eco‐Summit in the Gatwick & Crawley area.
Taking place at Ifield Community College on the…………… 25th November 2019 
EYE is a dedicated non‐profit educational Team. Reaching out to schools and pupils across W. Sussex to spread  knowledge through learning and participating in sustainable issues. We work to assist young people and schools that want to make a difference to their environment. 
One of our methods to achieve this is through our successful hosting of our annual Eco‐Summits. We have  experience of running Summits in Worthing & Adur, Chichester & Littlehampton areas. Our most recent 12th  Worthing & Adur Summit took place on 27th June. Building upon our strength EYE are introducing our EcoSummit to the Gatwick & Crawley area. 
Starting from 08:45 to 15:00, this engaging day event will invite pupils to attend 3 pre‐allocated workshops during the course of the day. Each workshop lasts around 45 minutes. Our workshops are hosted by a diverse  and exciting breadth of knowledgeable supporters. Listed below is just a few of the workshop leaders that  have brought exciting and enthusiastic methods of learning about eco and sustainable topics to our summits. 
Wastebuster,             National Trust,                                  Sussex Green Living, 
Froglife,                     Schools Without Walls,                    W. Sussex CC Waste prevention
RSPB,                       Less Co2,                                         Weald & Down Living Museum
River Trust,                Arundel Wetland centre,                  Sussex Community Rail Partnership, 
Moving Sounds,        South Downs National Park,            Sussex Wildlife Trust, 
Activ8 for Kids,           STEM – Uni of Brighton,                 Marine Conservation Society 
Closer to the date Schools will be asked to select their 3 workshops that they would like each of their groups  to attend. For example, If your school is sending 16 pupils with 2 supervising school adults they will be divided  into 2 groups and each group can choose their own set of 3 workshops. Whilst every effort will be made to  allocate your chosen workshops, we may need to make some alterations to workshop allocations if the  demand for any workshops exceeds its capacity. We will generally place similar aged pupils together to  maximise learning, there may be some workshops that involve two concurrent Key Stages and these will be  adapted to be suitable for all the ages involved. Workshop on offer will contain content up to KS5 learning.  The average workshop group is 15 to 18 pupils. 
As we have managed to secure a generous sponsor in Gatwick Airport, we can provide pupil places at a reduced  rate of £5.50 per pupil. This pupil cost covers outside educators and other expenses associated with the day.  Gatwick Airport is subsiding £2 per pupil, along with staffing costs associated with organising the event. 
Website: