Vail Williams advises on multi-million pound redevelopment of Heatherwood Hospital
Published: 29 Jan 2019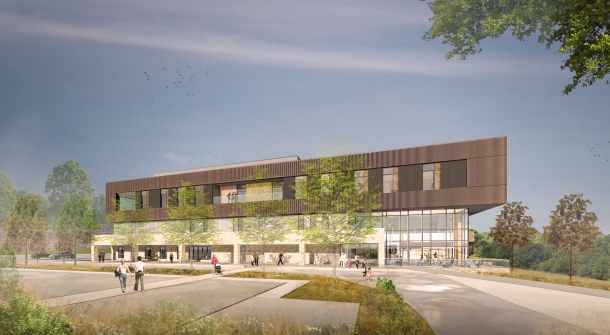 Property advisers, Vail Williams LLP, has advised long-standing client, Frimley Health NHS Foundation Trust, on the £98m redevelopment of Heatherwood Hospital, which begins construction this month (January).
The new hospital, which we be built in woodland behind the current site in Ascot, is run by Frimley Health NHS Foundation Trust and is due to complete by 2021.
It will have six operating theatres, 48 inpatient beds and 22 day case cubicles and within 10 years it is set to provide care for an estimated 168,000 people each year.
The hospital will specialize in planned non-emergency procedures such as orthopedics, general surgery, urology, gynecology and endoscopy.
Experts from across Vail Williams' planning, valuation, development viability and commercial property teams came together to advise on the scheme, which was granted planning approval by the Royal Borough in August 2017.
James Lacey, Regional Managing Partner (London) at Vail Williams, said: "We are proud to have been involved with this scheme, which will provide a vital hospital resource, whilst supporting employment and creating additional residential infrastructure in the surrounding area.
"It has been a pleasure to work with the team at Frimley over the past 15 years, to help bring forth this vital new infrastructure for the area."
The scheme will also offer a range of outpatient and diagnostic facilities such as cardiology, radiology, lithotripsy, children's clinic, physiotherapy and orthodontics and space for a primary care hub with GPs, community nurses and other healthcare specialists.
Janet King, deputy chief executive, Frimley Health NHS Foundation Trust, said: "Throughout this difficult and complex application, Vail Williams have guided us through the process and offered invaluable support. They have proved incredibly flexible and responsive, including working alongside us at a series of public events. We think of them not just as planning consultants, but part of the Frimley Health team."
Dr Tim Ho, medical director at Frimley Health NHS Foundation Trust, added: "We are delighted that work to build a new hospital can now begin on the Heatherwood site.
"This will be a fantastic hospital fit for the 21st century, offering state-of the-art care for our patients and a first-class working environment for our staff."
The old building will be demolished to make way for up to 230 homes and building a new primary care GP hub.
BDP were appointed architects for the project, alongside tree consultants Keen, highways consultants, Peter Brett Associates and legal advisers Capsticks.
For more information about Vail Williams LLP, please visit www.vailwilliams.com or follow us on Twitter at @vailwilliams.