An Update from Govia Thameslink Railway (GTR) and Network Rail
Published: 14 May 2020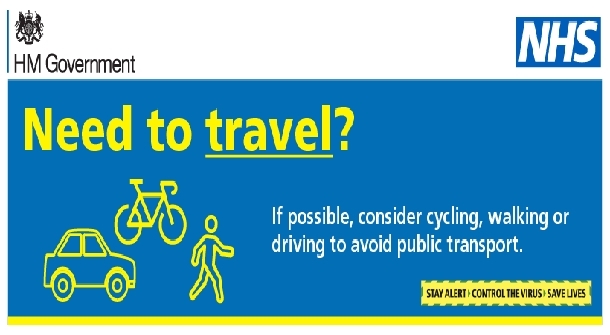 Following Tuesday's announcement by the Department for Transport, we are writing with an update on the planning underway at Govia Thameslink Railway (GTR) and Network Rail to support a step up in train services.
From Sunday 17 May 2020, the rail industry will introduce a new timetable.
The rail industry is committed to providing a train service that supports key workers to be able to get to work.
While the Government advice remains that anyone who can, should continue to work entirely from home, there are people who will need to go to their place of work.  The Government has published guidance for people who cannot work from home and must use public transport.

As a starting point, passengers are being encouraged to avoid public transport where they have alternatives, this is to protect as much space as possible for those who must use it. This is because even as public transport begins to return to a full service, the 2-metre social distancing rule will leave effective capacity for one in ten passengers on many parts of the UK network. For those travelling, the guidance recommends that passengers:
keep 2 metres apart from others wherever possible
wear a face covering if they can
use contactless or smartcard payments where possible
avoid rush hour travel wherever feasible
wash or sanitise their hands before and after travel
follow advice from staff
This guidance can be found at: https://www.gov.uk/guidance/coronavirus-covid-19-safer-travel-guidance-for-passengers
It is important to emphasise that the times of most trains will change, and we are asking customers to plan before travelling. The timetable is available in journey planners such a www.nationalrail.co.uk from 12 May 2020.
As usual, if you can help to share this message, it would be helpful.
This is a temporary timetable designed to provide more space on board for key workers. As a result, and because of the impact of coronavirus, the rail industry will not introduce the full Summer timetable change on Sunday 17 May 2020 as originally planned, however, the industry is going ahead with the £150m upgrade of Gatwick Airport railway station, which will provide much needed improvements in the future, and our timetable is designed to support 
this upgrade. It is our intention, that when it is the right time to introduce more train services, we will scale-up gradually into the full Summer 2020 timetable.
We are scrutinising our train planning and adapting our operations to comply with the government's social distancing guidelines for customers and to ensure the safety of our colleagues whether working at stations, on services, in depots or out across the network.
This briefing sets out our thinking in more detail. In addition, should it be of interest, our colleagues at GTR, Steve White, Chief Operating Officer, Phil Hutchinson, Head of Strategic Planning and Paul Harwood, Director of Investment, Network Rail will host a webinar on Friday 15th May between 15:00 and 16:00 to discuss timetable planning.
Registration and more information can be found at: https://www.eventbrite.co.uk/e/gtr-timetable-webinar-tickets-104939035480. The password to register is "17May".
Over the next few days, you will see more information on our website and social media, helping to manage passenger flow and social distancing at stations.  All of our channels are being updated at the time of writing.
As always, should you have any questions, please do not hesitate to let us know.
Best wishes and keep safe,
Angie & John,
Angie Doll
Managing Director, Southern and Gatwick Express and GTR Executive lead on COVID-19
John Halsall, Managing Director, Southern Region, Network Rail