Celebrations in store for Sussex railway depot
Published: 06 Oct 2020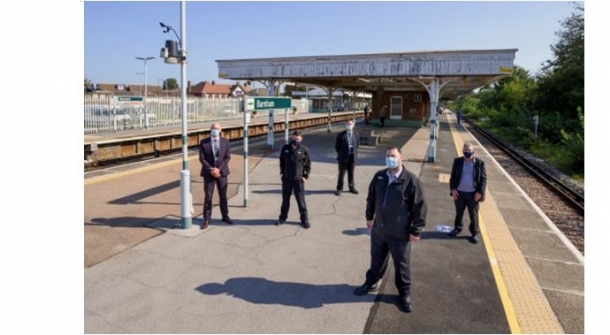 Nestled away in the Arun district of West Sussex is a workplace home to hundreds of dedicated railway workers – and today marks the 25th anniversary of the site's operations.
From train drivers and conductors, to on-board supervisors, driver managers and station teams, Southern's Barnham depot is one of Govia Thameslink Railway's biggest bases and is steeped in local family history.
Formed in 1995 with the amalgamation of the company's legacy depots including Littlehampton, Bognor Regis and West Worthing, the depot was created at Barnham to provide a base for drivers when the Bournemouth service launched in the mid-90s.
Richard Yardley, 39, is a Driver Manager at Barnham who swapped the skylines of Dubai for suburban Sussex in 2016 and hasn't looked back since. "The Barnham depot is a very special part of the local community. There is a real sense of family here, helped by the fact that many of our people have had parents, grandparents, even great-grandparents all working on the railway and at Barnham depot itself. When I joined over four and a half years ago, I realised that it's the best job I've ever had. There's a sense of comradery and togetherness in the railway that you just don't get anywhere else."
Although previously working for airlines, a career on the railway was destined for Richard with both his grandad and great-uncle former train drivers. It seems this trend is very much still alive at Barnham – with different generations of the same family all working under one roof.
Terry, 58, Lee, 38 and 35-year-old Adam are all members of the Laird family who work as train drivers at the Barnham depot. Terry Laird started his career at Barnham on the day the depot opened and says the best part of the job is working within the community. He says: "I joined the railway when I was just 17 and worked in various roles in the north of the UK. Unfortunately, the company I was with at the time were going through a part-closure, so I had to look for work elsewhere and that's when I found the opportunity with Southern.
"It's amazing to have both of my sons follow in my footsteps to become train drivers and even better that we're now all part of an even bigger family at Barnham. The depot is a huge part of the local community and we're really pleased to be celebrating 25 years of history here." said Terry.
Richard had grand plans for the 25th anniversary of Barnham depot including inviting back retired staff for the celebrations, but this has unfortunately been postponed by Covid-19. However, the occasion won't go amiss as decorations and historical memoires will adorn the depot for all staff to enjoy.
Opened in September 1995, the Barnham depot is now home to a total of 156 drivers, 90 onboard supervisors and 36 conductors and is led by the area operations manager, Tom Guiney. The depot even has its own football team called The Windmills, who run fundraising matches and events to raise money for Children with Cancer UK. It continues to be a vital part of the community, employing many generations of Sussex families past and present