GTR offering support and reassurance for customers travelling in lockdown
Published: 25 Nov 2020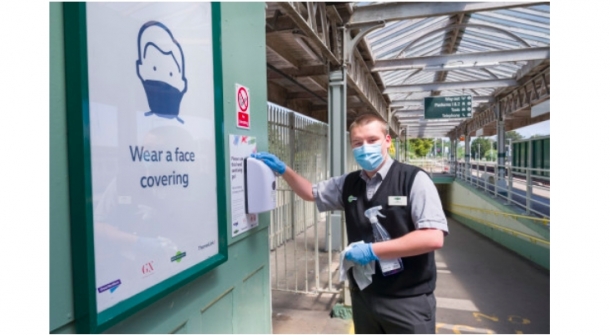 A powerful long-lasting viruscide is being used to treat stations, offices and other staff locations. More images available to download below.
·         With the UK back in lockdown, Govia Thameslink Railway will retain train service levels
·         GTR shares top tips for safe travel for those continuing with daily commutes
·         New technology and information is on hand to help passengers plan their journeys 
During the country's second national lockdown, Govia Thameslink Railway (GTR) is reminding customers of its top safe travel tips and about the wealth of information available to help them plan their journeys.
This is especially important for the key workers travelling on GTR's services each week - which serves more than 50 hospitals across the network - as well as schoolchildren, university and college students, and workers from other industries that are continuing to operate during lockdown. In order to support social distancing on-board, service levels will be retained during the four week lockdown period.
Additionally, customers have information at their fingertips to help plan their travel and feel reassured on their way to work or school, including:
·         The 'How Busy is my Train' webpages on Southern, Thameslink and Great Northern (linked below) which offer tips and advice on when specific stations and routes are usually the busiest, helping customers identify the easiest times to socially distance 
·         Online journey planers on the National Rail Enquiries website now show information on services which get busy via the yellow 'service status' pop ups and busy trains appearing with a yellow warning triangle
·         'Passenger Connect' which travellers can sign up to through the National Rail Enquiries website to receive personalised, real-time push notifications about their journey and how busy their service is
·         Dedicated Covid-19 advice and guidance pages providing easy tips to keep safe as your travel and to demonstrate all the work done to protect passengers and staff (linked below)
GTR has been using technology behind-the-scenes too by building new apps throughout the pandemic. These include a social distancing app which colleagues update the latest capacity information on-board or at their station and a location cleaning app that identifies when trains and key touchpoints were last cleaned with a viruscide. 
Colleagues have also filmed a video charting their Top Ten safe travel tips, which range from using your elbow to open the door to avoiding eating or drinking on the train to help keep your mask fully in place.
Steve White, Chief Operating Officer at GTR said, "Throughout the first lockdown, our railway teams worked tirelessly to keep key workers moving and ensure the safety and wellbeing of all passengers. Now, in this second national lockdown, our enhancing cleaning regimes, social distancing measures , smart ticketing solutions and travel information are all in place and our teams stand ready to support everyone who needs to travel."
GTR'S TOP TEN TIPS FOR TRAVELLING:
Do not travel if you feel unwell or have any symptoms of Covid-19 

Please wear a face covering when you are travelling on the train and ensure you sanitise your hands before and after travelling 

Use contactless payment as much as you can or switch to the Key smartcard – this means that you can avoid going to the ticket office and/or machines as much as possible

If you can, try and stagger your journey and avoid the morning and evening peaks

We're keeping our trains clean but every little action can help – how about using your elbow to open the door button to keep your hands clean 

Please try to avoid eating and drinking on board – you're best to keep your face covering securely in place for your whole journey 

When taking the escalator, please stand on the right, do not walk down on the left and leave a few steps in between yourself and the person in front to allow for a gap 

Try boarding at the front or end of the train as there may be more space 

Please do your best to keep your distance from other travellers, let's all help each other 

To help keep you and everyone around you safe, follow social distancing guidance at stations and advice from our friendly station staff