Here at the Holiday Inn London Gatwick Worth, we are excited to present: Christmas Live From Your Bedroom!
Published: 30 Nov 2020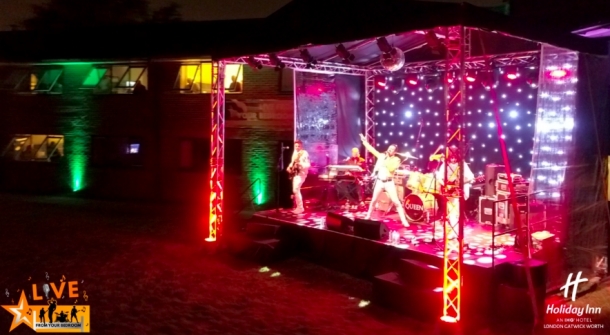 Live From Your Bedroom is an exciting calendar of live music events, performed on stage in the courtyard here at our hotel in Crawley, West Sussex, and watched from the comfort and safety of your hotel bedroom, to ensure we remain in line with social distancing regulations (and the 'new normal'!) 
We are so pleased with how successful our first 4 Live From Your Bedroom events went with sell-out shows each night! We had incredible performances from our tribute acts and bands, from the critically acclaimed Queen – We Will Rock You on our opening night, to the ultra-talented The Take That Experience. Guests finally got to dance to live music for the first time in months, bands finally got to perform on stage again. 
Listening to live music and dancing is something so normal, and yet people were so grateful that they could finally do this once again whilst experiencing such a unique event. Guests were able to feel completely safe not only due to our covid regulations in place but also because they were able to enjoy the show from the safety of their own private box! 
Hotel Director Chris Schoeman: "The response on social media and review sites for our Live From Your Bedroom events has been incredible, everybody had such a wonderful time. As a team we agreed that it made us all feel overwhelmed and emotional by the incredible reaction from the events and the feedback we received from guests. So we are back once again with brand new dates and a festive theme ready for Christmas!" 
We are relaunching Live From Your Bedroom once again commencing the 11th December, bigger and better than ever with performances by A Vision of Elvis and his 5 piece Cadillac band and the Elton John Experience. We also have Christmas party nights to encourage everyone to get into the festive spirit and celebrate the most wonderful time of the year with their nearest and dearest. 
Live From Your Bedroom is ideal to get together with work colleagues. We have adapted the usual concept of the office Christmas party in these strange times to allow companies and work colleagues to get together and celebrate in a safe and socially distanced way…with an electric atmosphere. Everybody is tired of zoom calls so don't let the office Christmas party be the same! 
But we aren't stopping there…our New Years Eve: Party Through The Decades night is going to the biggest party of the year with a fantastic band performing hit after hit of all the best songs throughout the decades along with thrilling circus acts and our very own ringmistress to put a Greatest Showman theme to the night. 
We are aware of how the Events and Hospitality industries are struggling at the moment and we have been big supporters of the #WeMakeEvents and #LetTheMusicPlay campaigns. We want to give local businesses and performers that have been without a steady income for months a chance to come together and support one another, especially during this time of the year that is usually so busy. 
A lot of our favourite things have been disrupted this year due to COVID but we won't let it cancel Christmas too!
Watch the video here
For more information please click here