sHOp, sHOp, sHOp Our Christmas Shop is now open!
Published: 21 Oct 2020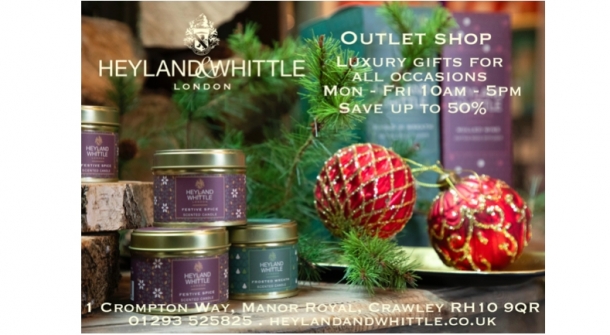 Heyland & Whittle, the local award winning handmade soap and home fragrance company, is now welcoming shoppers at its festive Christmas Shop. This family run company specialises in traditional cold-processed fine soaps -inspired by those fragrances found in Nature. Using only the best natural ingredients, essential oils, herbs and spices, these indulgently fragrant soaps are a pleasure to give and a joy to use. 
The shop is filled with gift ideas for men and women– soaps, body washes and lotions, bathroom accessories, fragranced soy candles and room diffusers -which can be bought individually or as beautifully packaged gift sets. The Heyland & Whittle Festive Collection will set the scene for your celebrations to come. These three scents of the season are a must for every home this Christmas. Festive Spice – oranges, lemons, spices and cedar patchouli. Mulled Wine -citrus fruits, nutmeg, cinnamon, cloves and ginger. Frosted Wreath -berries, oranges and sweet pine. These festive fragrance sets come beautifully boxed and make lovely gifts. 
A warm, friendly, safe welcome awaits shoppers at The Heyland & Whittle Christmas Shop at 1 Crompton Way, Manor Royal, Crawley RH10 9QR.
Easy parking too – open Mondays to Fridays 10 am to 5pm.