St Catherine's Hospice - Step Up for your local hospice this summer
Published: 17 Jun 2020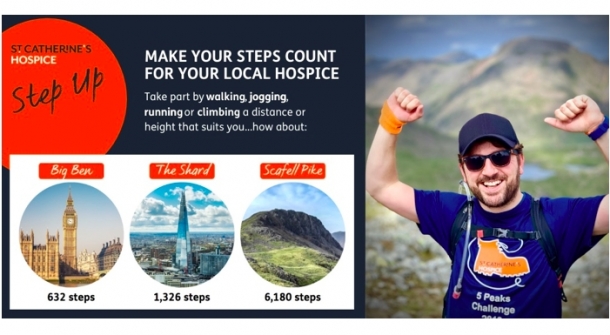 St Catherine's Hospice is asking people in their community to step up this summer and make sure local terminally ill people can continue to have hospice care during these difficult times and beyond. 
The local charity is asking people to walk, jog, run or climb a distance or height to raise vital funds, so no one faces death and loss alone. 
Popular events like the charity's annual Midnight Walk, aren't possible at the moment causing a severe shortfall in funding. Step Up is a great opportunity to help St Catherine's, and our support has never been more vital than now. 
Choose your own, personal challenge, or take on one that St Catherine's suggests, and help your local hospice be there for others in your community. 
For example, you could: 
Run, walk or jog: 
A marathon – 50,000 steps 
The width of England – 150,000 steps 
From Crawley to Paris – 300,000 steps 
Or take your stairs, or some nearby steps, to climb the height of famous landmarks like: 
Big Ben – 632 steps 
The Shard – 1,326 steps 
Scafell Pike – 6,180 steps 
11-year-old Lauren Parker has already stepped up to support her local hospice. She's chosen to climb 6,344m – the height of the Siula Grande Mountain in Peru. Lauren said, "I'm learning about mountains at school so I decided to climb the height of the Siula Grande. I'll be going up and down my stairs at home about 80 times a day! I wanted to step up and raise money for St Catherine's because they need our help more than ever. I feel proud knowing my challenge will help patients' get lots of care when they need it most." 
Katy Cox also decided to use her stairs at home to support St Catherine's by climbing the height of the Shard. She said, "I decided to climb the height of the Shard because it's the tallest building in Western Europe and somewhere I've enjoyed indulging in a cocktail! I've been climbing my stairs in fancy dress to make it more fun. I work at St Catherine's and I've seen first-hand the positive impact our care has continued to have on local people during this crisis. Our services are needed now as much as they've always been. I'm aware of how much our hospice fundraising has been impacted by coronavirus so I wanted to do my bit to help. O n a personal level it's been great to have a challenge to focus on." 
Arron Trott, Events Fundraiser at St Catherine's said, "We need our community's support now, more than ever, to continue to be here 24 hours a day, seven days a week, for local people who need hospice care and support. As the weather gets warmer we hope lots of people will take part in Step Up, at home or as part of their daily exercise. It's a great motivator to keep yourself active and do something to help others in your community. We look forward to welcoming you to Team STCH!" 
You can take part in Step Up at a time to suit you, but St Catherine's is encouraging people to take on a challenge, and aim to raise at least £100, throughout June and July. 
Ready to Step Up and do something amazing this summer? To sign up and register your challenge please visit: www.stch.org.uk/step-up/