St Catherine's Hospice Firewalk coming to Horsham
Published: 21 Jan 2020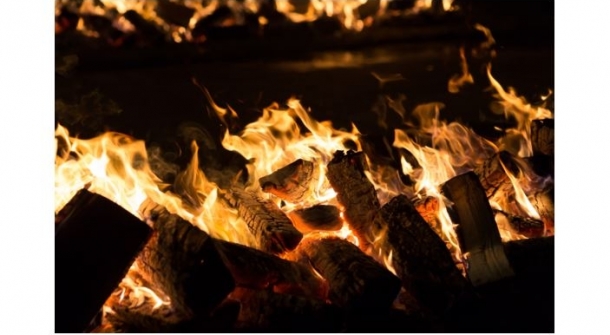 Things are heating up as St Catherine's Hospice counts down to its second ever Firewalk!
Lots of brave soles in the community have already signed up to face the flames and raise funds for terminally ill people in their community. But there's still time for you to join them!
A New Year feels like the perfect time to take on a new challenge, and what could test your bravery better than walking 15 feet of red hot embers? Or perhaps you could face the flames to honour the memory of someone you love?
Taking place on Friday 13 March 2020, in the Carfax, St Catherine's thrilling Firewalk will be a night to remember! And Sarah Clapp is just one person who has shown her bravery by signing up. She said, "I've run a marathon the last two years so decided to set myself a different challenge this year. As soon as I saw this advertised, I figured that walking over 15 foot of hot coals should be easier than running on 26 miles of road! St Catherine's events are always well organised by a great event team, and helping such a great cause close to my heart, makes facing the flames worthwhile."
Alongside the Firewalk, there's also a Lego brick walk for brave under 18's who are keen to tackle their own challenge to raise money for their local hospice.
Fran Palliser, Events Projects Fundraiser at St Catherine's said "We're really excited to bring such a great challenge to Horsham. It's a brilliant thing to be able to say you've hot footed across fire for your local hospice, and we can't wait to celebrate with our amazing firewalkers. Their efforts have never been more important because at the moment we can only care for one in three local people who need hospice care. But in the future, we want to be there for everyone facing death and bereavement. This is only going to be possible with our community's support."
Think you can handle the heat? Then don't delay, do something incredible and book your space today! Adult registration is £25, and registration for the under 18's Lego walk is £10. Once you've registered the St Catherine's Fundraising Team will support you to reach your sponsorship target. All money raised will support terminally ill people and their family and friends in your community. There's no better reason to be brave!
Sign up online at: www.stch.org.uk/firewalk, call the St Catherine's Events Team on 01293 447355 and ask for Fran, or email events@stch.org.uk