St Catherine's Hospice seeks community's support
Published: 08 Apr 2020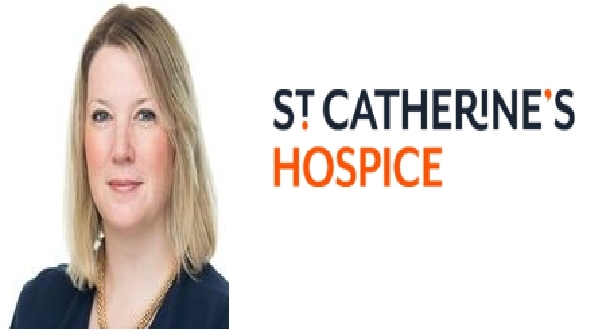 Whilst many of us are in lockdown at home, staff at St Catherine's Hospice continue to provide vital care and support to local terminally ill people across our community. Never has their care been more important, but it's only thanks to the generosity of readers like you that St Catherine's can be there at a time it's needed most. As a local charity, the well-loved hospice has already seen a severe impact on its funding because of coronavirus, so Claire Irving, St Catherine's Chief Executive asked us to share this message with you.
"As your local hospice, we're proud to help people in our community through the most difficult of times. Now, more than ever, we must look after one another.
The impacts of coronavirus are profound, and my thoughts are with you at this extremely challenging and uncertain time. Today, more than ever, our relationships with our loved ones feel important. We're taking extra time to reach out and connect with those we care about. To look out for friends, neighbours, and people more vulnerable than we are. To be there for each other. To rally together and support one another.
At St Catherine's we're determined not to let people in our community down at this most crucial of times. I want to reassure you that we're continuing to support people as we do 365 days per year.We've made swift changes to the way we operate to make sure that we're still able to safely provide care for local people, on our wards and in our community.
But we can only continue to do this with your support. And we've never needed your support more than we do now.
Our expert nurses, therapists and doctors are still providing care in our hospice and in people's homes. Our nursing and bereavement teams also continue to offer people advice and reassurance, day and night, via our phonelines.
Even though we continue to provide this vital care, coronavirus means that we've seen a severe impact on our funding. Many of our fundraising events are having to be cancelled or indefinitely postponed, and our 15 charity shops, which bring in vital funds, are temporarily closed to safeguard our staff and community.
That's why I'm asking for your urgent help today. Please will you donate whatever you can afford to keep St Catherine's going through this most difficult time?
By donating whatever you can afford, you're making sure vulnerable people in your community can have hospice support. It's support they need now more than ever.
Our supporter care team is waiting for your call on 01293 447361 or you can donate quickly and easily online at: www.stch.org.uk/BeThere
We're all experiencing challenges we never expected to face, and I'm conscious that you may have your own difficulties at the moment so I'm particularly grateful for anything you're able to donate.
As a local charity we rely on people like you to be able to provide our expert care and support.
I'm humbled by my many dedicated colleagues who are providing outstanding care and support, on the frontline and behind the scenes, during this exceptionally challenging time.  But we know we're not alone in facing challenges. These are tough times for us all.
What has bolstered us, and continues to do so, is the amazing love and support we've received from people in our community. We've received essential items, treats for our hardworking staff and donations. We're incredibly grateful for it all.
Knowing how much our hospice means to people like you keeps us going through the hardest days.
It makes us determined to do you – our supporters and our community proud.
It makes us determined to keep providing outstanding care.
And it makes us determined, with your help, to make sure that nobody in our community has to face death and loss alone.
By working together we can look after local people through this crisis. We know it won't be easy, but together, we'll do it.
I hope you and your loved ones are keeping safe and well and have everything you need. Let's all continue to be there for each other until this situation passes. Because it will pass.
Thank you so much for being there for your local hospice and helping us to continue to be there for your community – your family, friends and neighbours.
Remember you can make a donation by calling our supporter care team on 01293 447361 or online at: www.stch.org.uk/BeThere
And do connect with us on social media if you can. Search St Catherine's Hospice Crawley on Facebook, @stCHospice on Twitter and stcatherinescrawley on Instagram. Our online community is a source of great strength and companionship for our collective supporters and our staff and we'd love for you to be a part of it.