The Award-Winning Phileas Foggs attracted Celebrities to the launch of their Titanic Themed Dining Experience at the Old Ship Hotel in Brighton
Published: 20 Feb 2020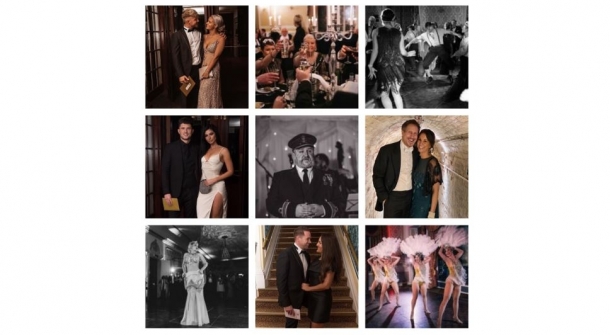 This Valentines evening saw the launch of Phileas Foggs World of Adventures new dining experience "The Titanic" as they worked collaboratively with The Old Ship Hotel.  The experience saw over 200 guests surrounding themselves in the sights and sounds of the most famous ship ever to set sail. 
The event, set over 3 floors, attracted the likes of Loose Woman Host, Andrea McClean and husband Nick Feeney.  The couple met on Valentines night in Brighton back in 2014 and they wanted to return to the city choosing the Titanic Experience as first-class passengers the prefect way to celebrate the occasion.
Kieran Hayler and Girlfriend Michelle Pentecost also attended the lavish event after news that his divorce to Katie Price is soon to be finalised. Other guests included Ibiza Weekend couple Jordan Davies and Isobel Mills and Capital DJ Joe Cooper and girlfriend Millie Woodman. 
Guests sat back and enjoyed a timeless performance of glamour and sophistication from the spectacular Gatsby Girls accompanied by a live Jazz quintet as they experienced touching tales of love aboard the Titanic portrayed by Phileas Foggs very own team of acting staff.
Graham Owen, Director at Phileas Foggs said "we are so excited by the experience and are really grateful to the team at The Old Ship Hotel for giving us the opportunity and working with us in order to deliver an amazing experience.  We received brilliant feedback from customers who attended and have been inundated with enquires about upcoming events ever since".
For more information about upcoming experiences and tickets visit www.excellentexperiences.co.uk/