University of Brighton - Expertise to support post lockdown resilience and recovery
Published: 12 Aug 2020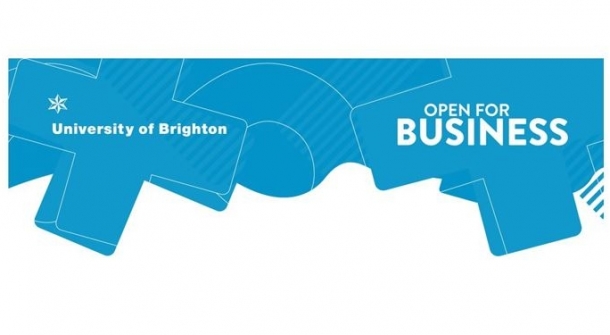 As the country emerges from lockdown, we know the challenges being faced by many businesses persist and that the economy and society need solutions to the issues arising from the COVID-19 pandemic.
Read on to discover how expertise in business, innovation, economics, product design and manufacturing, health, training and clean growth at the University of Brighton is being applied to these challenges.
If you would like to explore how the University could work with your business to support its resilience and recovery, contact our Enterprise team at enterprise@brighton.ac.uk.
Business, Innovation and Economics 
Innovation programme launches to support SMEs 
Innovation is critical to business resilience and we have partnered with Plus X to provide a timely, new Brighton Research Innovation Technology Exchange (BRITE) programme, with delivery flexed to cope with changing circumstances.
Programme members will receive fully-subsidised access to specialist innovation expertise, product research and development services, personalised one-to-one coaching with business mentors, peer-to-peer interaction and learning and access to the university's innovation tools and programmes, developed by our Centre for Change, Entrepreneurship and Innovation Management (CENTRIM).
Business resilience and recovery webinars
We teamed up with Coast to Capital and Business East Sussex to create a series of webinars designed to respond to themes that emerged from clinic sessions with businesses during the onset of the COVID-19 pandemic.
During these webinars, speakers from our Centre for Change, Entrepreneurship and Innovation Management (CENTRIM) shared ideas on ways to innovate during a crisis, the impact of adapting digitally and how to maximise the surge in use of digital devices, as well as recommendations on how to exploit agility for business advantage.
The webinar recordings also enable you to hear the speakers responding to audience Q&As from the live event.
Product design and manufacturing 
Engineers provide rapid response to frontline PPE challenge 
Our engineers are adept problem solvers so when Manchester City Council asked researchers at the University of Brighton's Advanced Engineering Centre (AEC) to test the quality of almost 70,000 fluid-resistant surgical masks, which were yet to be certified due to constraints in the supply chain, they responded quickly and enthusiastically.
By modifying an experimental gas flow rig in the AEC laboratories they were able to evaluate the flow resistance of the face masks and compare the results with the CE certified masks.
To talk to us about how our problem solving expertise can address your business challenges, and funding available to support collaboration - get in touch at enterprise@brighton.ac.uk.
Health science and technology 
Researchers use Machine Learning and Artificial Intelligence to create new skin prick test
The University of Brighton is leading research on a new way of screening for COVID-19 and other viruses using Machine Learning and Artificial Intelligence, providing a potentially new screening concept that could help early detection of coronavirus.
Creating digital flashcards to communicate to critically ill patients
Brighton anaesthetist Rachael Grimaldi developed an innovative flashcard system while on maternity leave after reading about a COVID-19 patient who was unable to understand healthcare workers through their personal protective equipment. 
Rachel founded a company, CARDMEDIC, and is working with a University of Brighton academic and Brighton and Sussex University Hospitals NHS Trust to create a library of flashcards, beginning with anaesthetic procedures related to respiratory failure and intubation.
Through a rapid (ten day) IT development effort the flashcards were digitised and the website launched. Within weeks, CARDMEDIC website users reached 35,000 and flashcards were being accessed in 120 countries across six continents.
Skills 
As the economy strives to recover from the COVID-19 outbreak, apprenticeships could be more important than ever in helping businesses to develop the skills they need to respond to conditions. 
New government grants and a new University of Brighton levy transfer scheme allow businesses to up-skill existing staff or bring new talent into the workforce using degree-level apprenticeship programmes.
Early access to fully-funded graduate interns
Graduate recruitment is another way to bring adaptable skills into your business. The Universities of Brighton and Sussex are pleased to introduce a new SME development programme called STEP-UP.
With delivery flexed to cope with changing circumstances, SMEs in the South East area can take part in the programme to gain early access to talented graduate interns, fully-funded for six weeks, who have been specially skills-trained to fit your business needs.
Clean growth
Clean Growth UK
A global crisis long before we'd heard of COVID-19, the importance of reducing carbon emissions has been brought into sharp focus with proven links between air quality and symptom severity, but our potential to achieve zero carbon has also been demonstrated by the sudden reduction in transportation and other energy dense processes.
The University of Brighton is committed to a cleaner, greener future and has a range of expertise that can help us get to net zero. SMEs developing or enhancing green products, services and business processes can get support through our Clean Growth UK programme. We're the South East Hub of this national network that provides SMEs with funded innovation and growth support.
Business Model Canvas 
This business model workshop for clean and green businesses will explore the famous Business Model Canvas, developed by Swiss business model guru Alexander Osterwalder and management Information Systems Professor Yves Pigneur, and the nine building blocks of business.
You'll master how to develop a clearly laid out business model, so that you can easily describe it to your employees, stakeholders or potential investors, and the steps to create your own business model canvas; develop your value proposition and learn about identifying your ideal target market with market research.
Clean Growth Innovation
During this virtual workshop you'll identify and learn about the most impactful actions your business can take, under tailored guidance from Ian Trow, MD of Energy and Automation.
You'll also work alongside other businesses as part of a Clean Growth Innovation community. Our e-collaboration platform will facilitate connection, discussion and the sharing of ideas and best practice between the trainer and participants during and between the workshop sessions.