Bereaved husband's pledge to support local hospice
Published: 27 Sep 2021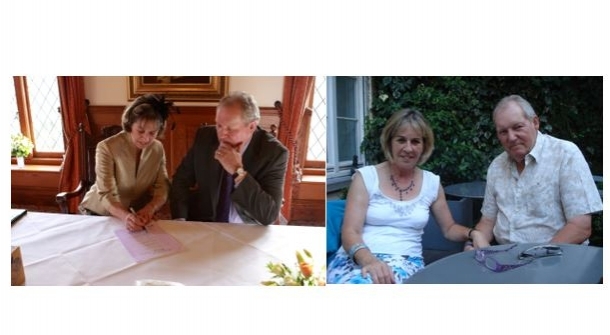 October is St Barnabas House's Make a Will Month, a month where some local solicitors kindly agree to waive their Will-writing fees in return for a donation to St Barnabas House. A donation which could give a hospice patient a whole day or night of care in their own home Anyone in the community can get involved in the initiative, and while there is no requirement to include St Barnabas in the Will, the hospice is keen to highlight the importance of gifts left in Wills.
As a charity that receives limited government funding, St Barnabas relies heavily on the generosity and support of the local community. The care costs of 1 in every 4 of the people the hospice supports are completely funded by gifts in Wills. This is the reason why Ian has generously chosen to leave a gift in his Will, after St Barnabas cared for his wife, Susan, in 2015.
Ian's Story
"St Barnabas is a very special place to me," says Ian. "In 2015, my wife, Susan, spent the last four weeks of her life in the hospice with brain cancer. She was comfortable and she was treated with dignity. The nurses who looked after her were just amazing – and they looked after me too.
"When Susan died, I decided that, once I'd got myself together, I would do something for the hospice. So I've arranged to include St Barnabas in my Will.
"Right now, I'm spending money and enjoying life. But, when the time comes, my two children will get what I haven't spent plus the value of my house – minus the amount that I'm leaving to St Barnabas.
It means that my children will be well provided for and others will be able to get the same incredible care that Susan and I had. The fact is that St Barnabas depends on this type of gift because they don't get much funding.
"In a way, you can think of a gift to St Barnabas in your Will as a gift to the future. Nobody knows what's going to happen to us – when we're going to fall ill or die, or what care we're going to need. I may even need hospice care. I don't know. None of us know.
"But one thing I do know is that making a Will and arranging to include St Barnabas in it has brought me real peace of mind. It's wonderful to know that my support will still be making a difference, even when I'm not here to see it."
During Make a Will month, you can have a simple single Will written for just a £110 donation, or a simple joint Will for £160. To find out which solicitors are taking part and how Make a Will Month works, visit www.stbarnabas-hospice.org.uk/make-a-will-month/ or call 01903 254777.