Costa del UK? The destinations on the country's largest rail network that fool Brits into thinking they're overseas
Published: 29 Sep 2021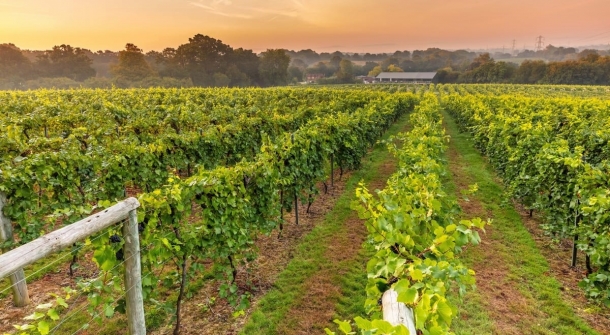 Rail operator Govia Thameslink Railway celebrates the picturesque holiday spots on its network
It's Go Time: Save the stress of overseas travel and jump on the train to glorious UK destinations
The average Brit spent 115 hours in traffic in 2019[1]- travelling by train means you can start your holiday from the moment you leave home
With many holiday plans scuppered this year, more of us than ever will be looking for ways to use the rest of our annual leave on holidays and breaks a little closer to home this autumn.
And with 43% of Brits stating that they definitely won't go abroad this year[1], 2021 has been all about the staycation. With so many incredible places to visit in the UK, Govia Thameslink Railway - which runs Great Northern, Southern and Thameslink train services - has rounded up some British hotspots across its routes that would fool anyone into thinking they've jetted off abroad.
What's more, with the average Brit spending 115 hours in traffic in 20191, travelling by train is not only a greener way to travel but also means you can avoid the dreaded tailbacks and start your holiday from the moment you leave home.
Swap Bordeaux for East Sussex
With trips to the South of France (pictured above, bottom) out for many, travellers can still enjoy a delicious glass of wine with a picturesque view by taking a trip to East Sussex. With the UK now producing some outstanding British wines, take a day trip to Bolney Wine Estate in Haywards Heath (pictured above, top) or Rathfinny Wine Estate in Polegate where you'll discover beautiful vineyards to rival some of the top French spots. This is the perfect opportunity for any staycation as not only does East Sussex offer an array of vineyards, it has plenty of picturesque villages such as Rye and Alfriston easily accessible by train.
Getting to East Sussex from London takes 60-90 minutes on Southern and Thameslink services, with routes from London Victoria, London Bridge and London St Pancras.
Bruges or Cambridge?
For those seeking a city break in Bruges - known for its impressive architecture, canal trips and a stunning market square - skip the queues at passport control and jump on the train to Cambridge instead. With more than five colleges to visit, including Trinity College, home to the famous Wren library and King's College founded in 1441 by Henry VI, it's easy to spend a day lost in the history of this fascinating city. If you fancy a little down time, take a trip punting down the River Cam and see the historical wooden Mathematical Bridge before heading to the market square for a bite to eat. (Pictures above: Cambridge, top, Bruges, below)
Tourists can hop on a Great Northern train from London King's Cross and be exploring the historic streets of Cambridge in just 48 minutes.
Trade Tuscany for The South Downs
If you're dreaming about the rolling hills of Tuscany (pictured above, bottom) and scenic views as far as the eye can see for your next break, why not take a trip to the UK's South Downs (pictured above, top)? With breathtaking views of the English countryside, pack up a picnic and spend the day surrounded by nature. Pure bliss!
Why wait? It's just a 60-minute Southern train to get to The South Downs from London Victoria and with no need to book ahead, you'll be transported to the rolling hills in no time.
Replace Milan's Duomo for the epic St Alban's Cathedral
For those in search for some religious culture, why not hop on the train to St Albans? 'The Abbey' is estimated to have been founded in the 8th century and is the oldest site of continuous Christian worship in Britain. Open daily from 08:30 – 17:30, visitors can enjoy free indoor daily guided tours and learn about the cathedral's rich history, including the monarchs that have walked on the same stones, whilst taking in the incredible architecture (Pictures above: St Albans Cathedral, top, Milan's Duomo, bottom).
After just a 20-minute Thameslink journey from London St Pancras, you can explore the mighty cathedral in all its glory.
With so many choosing to stay closer to home this year and the UK generating a positive buzz as an exciting destination, both domestically and in parts of Europe[2], the train is a great – and environmentally-friendly – way to discover the spectacular places and attractions across the network.
Myriam Walburger, PR and Marketing Director at Govia Thameslink Railway, said: "We're very fortunate to have so many incredible destinations across our rail network. Lots of people are opting to 'staycation' this year, visiting some fabulous UK hotspots and making up for lost time with friends and family. Our colleagues are on hand to help you enjoy fantastic days out this autumn – many of which are almost on your doorstep!"
Travelling with kids? You can also take advantage of the 'kids for £2' offer, available on the Southern, Thameslink or Great Northern routes, and enjoy a day out with the entire family (perhaps treating them to an extra-large hot chocolate with the money saved?).
It's Go Time! For more information on how to book and take advantage of the fantastic locations across the network, please visit the Southern, Thameslink and Great Northern websites.