COVID-19 Update No 7 Oxford/AstraZeneca
Published: 18 Mar 2021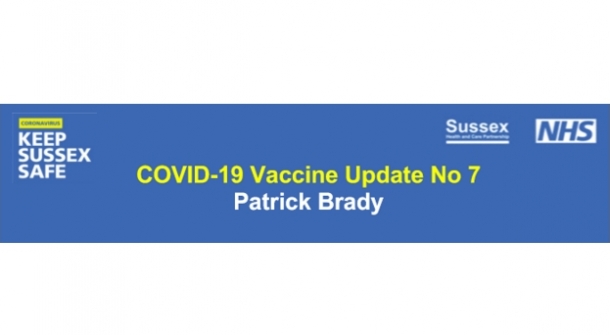 Some of you may be aware of the concerns raised around the Oxford/AstraZeneca vaccine, following its suspension by some European countries pending a review of reports of blood clots. To clarify, the European Union's medicines agency has said there is "no indication" that Oxford-AstraZeneca's coronavirus vaccine is the cause of reported blood clots. The European Medicines Agency (EMA) has been carrying out a case-by-case evaluation of incidents and is expected to complete its review on Thursday.
Authorities here in the UK have stated that they believe the evidence does not suggest the vaccine is the cause, and our response to you is as follows:
Reassurance about the use of COVID-19 Vaccine AstraZeneca  
In the UK, the Medicines and Healthcare products Regulatory Agency (MHRA) regulates medicines, medical devices and blood components for transfusion, including the vaccines being offered as part of this programme.
The MHRA remains clear that there is no evidence to support any concerns about the AstraZeneca COVID-19 vaccine and people should continue to attend their appointments and get their COVID-19 vaccine when asked to do so.     
The MRHA statement is as follows: 
Dr Phil Bryan, MHRA Vaccines Safety Lead said: We are closely reviewing reports but the evidence available does not suggest the vaccine is the cause.
Blood clots can occur naturally and are not uncommon. More than 11 million doses of the COVID-19 Vaccine AstraZeneca have now been administered across the UK, and the number of blood clots reported after having the vaccine is not greater than the number that would have occurred naturally in the vaccinated population.
We are working closely with international counterparts in understanding the global safety experience of COVID-19 vaccines and on the rapid sharing of safety data and reports.
People should still go and get their COVID-19 vaccine when asked to do so.  
Read more https://www.gov.uk/government/news/mhra-response-to-irishauthorities-action-to-temporarily-suspend-the-astrazeneca-covid-19-vaccine
https://www.redcross.org.uk/get-help/coronavirus/coronavirus-vaccine