COVID-19 Vaccine Update 3
Published: 24 Feb 2021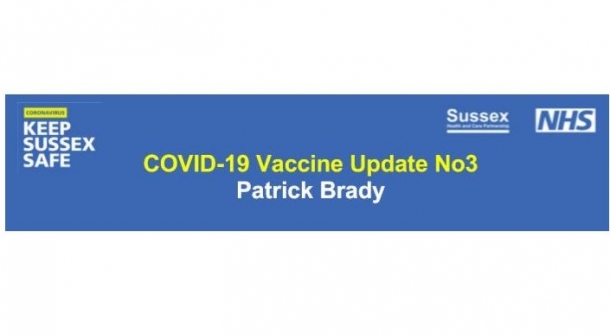 Sussex has now surpassed the half million mark of vaccinations to protect those in the most vulnerable groups. The milestone comes as the NHS sets out an accelerated national timetable for the vaccination programme. The commitment aims to ensure that the most vulnerable are vaccinated as quickly as possible, and protection is provided for the whole adult population by the summer.
Last week the NHS in Sussex met the national target for all those in the first four priority groups to have been offered the vaccine by 15 February. Currently services continue to focus on those in the top four priority groups who have not yet had the vaccine, those aged 65 and over and those clinically vulnerable due to an underlying health condition and their carer's.
In the coming days, local vaccination services will also start to contact people who are due for their second dose, to make sure that all those who have had one jab receive their follow up appointment.
The latest COVID-19 vaccination facility has opened today at Westgate Leisure Centre in Chichester. The service is by appointment only and eligible people are being invited to book through the national booking service online and over the phone. More than 20,000 people in Sussex have been added to the list of people who are clinically extremely vulnerable (also known as the shielded patient list) after a new assessment of the health of local communities. People in this group will have received a letter advising them that they are now on the clinically extremely vulnerable list, putting them at high priority for a vaccination. In the coming days they will also receive a letter from the national vaccination programme encouraging them book their appointment.
If you receive this letter, you can book your vaccination straight away by visiting www.nhs.uk/covid-vaccination or by calling 119 free of charge between 7am and 11pm seven days a week. Alternatively, you can wait to be contacted by your local GP-led vaccination service.
Sussex GP Dr Daphne Coutroubis explains why it's so important for care home staff to get their COVID-19 vaccine and answers common queries and concerns.
We are keen to hear from people about their experience of the vaccination programme, the information you are receiving or not receiving, and your actual experience of having the vaccine – positive experiences and where there need to be improvements. Share your views through our survey, or tell us your story. Our survey will help us shape how we continue to roll out this vaccination programme to our communities over the coming weeks and months; it is open until Friday 27th February.
Some of the activities being undertaken by vaccination team in Sussex are:
• Sharing videos about vaccination in community languages, and supporting the production of information in British Sign Language
• Ensuring that we share information about community language and British Sign Language interpretation with our communities and with our vaccination centres and sites
• Working with Carers' support organisations across Sussex to develop bespoke information for unpaid carers
Liaising with organisations that support people with Learning Disabilities to ensure they have appropriate information
• Liaison with local Faith leaders and groups to cascade information and to answer questions 
• Working with organisations that support older people to ensure they are able to pass on information and answer questions  • Asking some of our community and patient groups to help us shape our communications work to make sure it is clear and appropriate 
• We also now have more than 100 Vaccination Champions who have been recruited to help share factual information about the vaccine and the vaccination programme, and support communities with questions and queries people may have. They are working across local areas and in particular communities and will be key as the programme continues to roll out.
There have been a range of questions and areas of interest collated from this work so far, and this insight has helped shape our frequently asked questions. As outlined above, it is important to us that we are sharing information in formats and languages to reach our diverse communities.The BBC's Asian Network asked listeners to send in their questions about the vaccine to have them answered by experts. Areas raised by listeners range from the vaccine's long-term effects to whether the ingredients are halal or vegetarian friendly.
 
Watch online as Divya Chadha Manek from the UK Vaccine Taskforce addresses their concerns in English.For those who may not have English as a first language, doctors have also answered the questions in five languages: Gujarati, Punjabi, Sylheti, Tamil and Urdu.
Why is my local GP-led vaccination service not open all week?
All our vaccination services are working extremely hard to vaccinate as many people as quickly as possible with the vaccines they have available. Vaccination supplies fluctuate from week to week and depend on the supply from national stocks. Because they are used as quickly as possible, this means that not all vaccination services operate every day. Most local vaccination services receive confirmation of their delivery for the coming days, then invite people in to match the number of vaccines available, and then open for dedicated days to use up supplies before they expire. For the Pfizer vaccine, this is usually within a three-day window.
GP practices are also working really hard at the moment to maintain both general medical services and the vaccination programme, and so will have teams back in their surgeries to ensure they can continue to provide the day-to- day care needed by their patients. So if your local vaccination service doesn't appear to be busy, the staff will be back in their practices, providing care to patients and booking people in and getting ready for their next vaccination sessions.
https://www.sussexhealthandcare.uk/keepsussexsafe/sussex-covid-19-vaccinationprogramme/covid-19-vaccination-sites/
As part of the "When will I get my jab?" public campaign we have produced a series of materials, including a specific animation relating to these letters:
• Watch this simple animation which sets out these options: https://www.youtube.com/watch?v=ame-eJ4RUSU
• How will I get my jab? (animation) https://www.youtube.com/watch?v=Bh4DLdKD6uw
• I have received a letter, what do I do? (animation) https://www.youtube.com/watch?v=ame-eJ4RUSU
• How will I be invited? https://www.youtube.com/watch?v=wtDEiOK46GM
• What is a vaccination centre? https://www.youtube.com/watch?v=izprZWWYe9w