Covid-19 Vaccine Update No 23
Published: 25 Jun 2021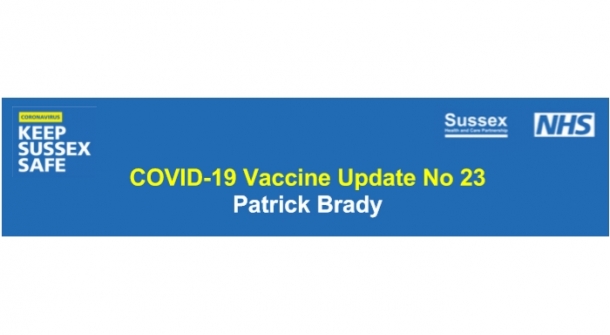 All adults now eligible for their COVID-19 vaccine 
From today, everyone aged 18 and over is being urged to arrange a jab if they have not had one as the NHS Covid Vaccination Programme, the biggest in health service history, begins the final push to protect the country. People can book on the national booking system – either the website or by calling 119 – or through their GP led service. People aged 39 and under who are eligible and pregnant women will be offered the Pfizer or Moderna vaccine in line with updated JCVI guidance. This opening up to the final cohort of people comes fewer than 200 days since the NHS made history by delivering the first Covid vaccine. Already, around eight in 10 adults have had their first dose while more than half have had their vital second dose, meaning they have maximum protection from Covid-19.
NHS England chief executive Sir Simon Stevens said: "This is truly a watershed moment: whoever you are, wherever you live, if you are aged 18 or older and you are yet to book your Covid jab, today should be the day you make that happen. "Extensive planning and the tireless hard work of staff and volunteers have made the NHS vaccine programme an historic success. "Now we are delivering a final push to protect the country so when your time comes, or if you haven't done so already, please play your part and come forward to make your first appointment or get your second dose."
Prime Minister Boris Johnson said: "Offering all adults a jab less than 200 days after the programme launched is one of our country's greatest collective achievements, saving over 14,000 lives so far. "I cannot thank NHS staff, the Army, volunteers, manufacturers and all those involved in this extraordinary national effort enough. "Today sees vaccines accelerate in their race with the virus - so now let's finish the job. If you haven't yet, come forward and get your jab."
This core brief sets out the headlines for the Sussex Vaccination Programme this week.
Key messages:
• All adults are now eligible for their vaccination
• The aim is to have offered all adults their first dose vaccination by mid-July. There is urgency to call out to people to come forward to arrange their vaccination therefore in the next three weeks
• There is a continued focus on second dose and from this week people who are aged 40 and above can also bring forward their second dose appointment to 8 weeks after their first appointment. Anyone in this age group is encouraged to arrange their new appointment date as quickly as possible
• To support people to move their second dose forward, the national booking system has been updated and people can see alternative appointments for their second dose before cancelling their original booking (which was previously raised as an issue).
Performance from last week:
• We have now passed the 2 million doses milestone delivered across Sussex (first and second dose);
• To date, 91% of people in JCVI cohorts 1-9 have now received their first vaccination and 85% have also had their second dose.
• 78% (133,922) of individuals in cohort 10 have received their first dose and 22% (37,641) have received their second dose.
• 99% of care homes have received their second visit. • The overdue second dose rate is 2%; continued positive progress.
Key focus this week:
• There will be a weekend of walk-ins this weekend (26-27 June) to try and make it as easy as possible for people to receive their vaccination
• People won't need to book an appointment; they will only need to turn up with one form of ID and they will be able to receive their vaccination
• This will be in addition to planned and booked appointments at each of the sites this week and over the weekend
• We will be able to share the full list of walk ins this week as quickly as possible • If we can start promotion of the 'weekend of walk ins' and direct to Sussex Health and Care Partnership website for information on the sessions (and then you can promote the sessions directly once they are confirmed): Sussex COVID-19 Vaccination Programme | Sussex Health & Care Partnership (sussexhealthandcare.uk)
Programme level communications this week:
• We will be working with a digital agency to lead social media advertising based on locations for the walk-in sessions on our behalf
• We are finalising some films with younger people to help promote the vaccination and these will be available across our social media channels – please share and use within your own groups and channels
• We will be working with the media to promote first and second dose appointments
• Through our place-based groups there will be targeted approaches to promote the walk-in sessions for this weekend with individual communities
• We are updating the website pages with more relevant information for younger cohorts – including a fact file on vaccination and fertility.