COVID-19 Vaccine Update No 33
Published: 29 Sep 2021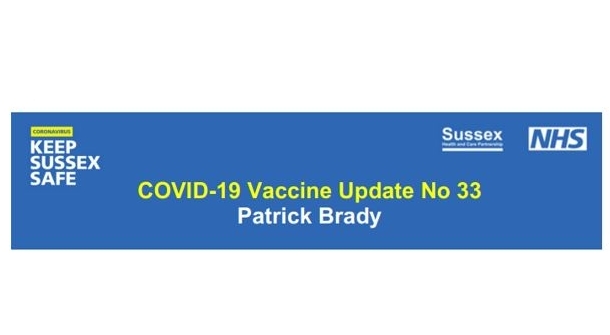 Boosters to be offered across West Sussex
This week the Government has approved plans for COVID-19 boosters for eligible groups. Over the coming weeks our teams will now start offering booster jabs to people in eligible groups as the vaccination programme moves to the next stage.
The same priority groups will be offered the boosters in phases.
This means care home residents, health and social care workers, people aged over 50, those aged 16 to 49 years with underlying health conditions that put them at higher risk of severe COVID-19, adult carers, and adult household contacts of immunosuppressed individuals will be offered a booster.
Vaccines will be delivered through existing vaccination sites including pharmacies, hospital hubs, GP practices and vaccine centres. Local NHS areas will be prioritising care home residents and staff ensuring they are offered a vaccine by the beginning of November.
People do not need to contact the NHS to arrange their booster vaccine, our teams will be in touch when they become eligible for the jab with around 4.5 million people in priority groups eligible for a booster over the coming weeks.
People will get a call or text from their local GP led site to get the jab, or will be invited by the National Booking Service, which will start issuing invitations from next week.
Booster jabs are effective for topping up protection for people who have had both of their jabs from at the very least six months on after their second dose.
Read more about our plans for the booster programme.
COVID-19 Vaccine Update No 33
Government approves universal offer to 12- to 15-year olds
The Government has announced this week that children aged 12 to 15 in England will be offered one dose of the Pfizer/BioNTech COVID-19 vaccine, following advice from the four UK Chief Medical Officers (CMOs).
Ministers have accepted the advice of the four UK CMOs and the NHS across the country is preparing to deliver a schools-based vaccination programme.
In Sussex, plans have been developed and over the next six weeks each school will be offered a visit to provide the vaccination for 12 to 15 year old students. Parental, guardian or carer consent will be sought by vaccination healthcare staff prior to vaccination in line with existing school vaccination programmes.
Every parent, guardian or carer will receive a letter with the details of this session for your school, the consent process, and next steps.
Read more about these vaccinations, and FAQs for 12 to 15 year olds
Call out continues for people to come forward for their vaccination
As the Government announces the next phases of the vaccination campaign, we are keen to remind people that there is still time for people to come forward for their first and second jabs.
It is not too late to have either vaccines – and we are keen for people who are yet to have theirs to make sure they receive this vital protection.
Walk in sessions are taking place every day at our vaccination centres, and there are mobile sessions taking place across our communities.
If you have any questions, concerns, comments or suggestions please contact
Patrick Brady – Email plb11@btinternet.com Mobile 07977 50643