COVID Vaccine Update No 34
Published: 13 Oct 2021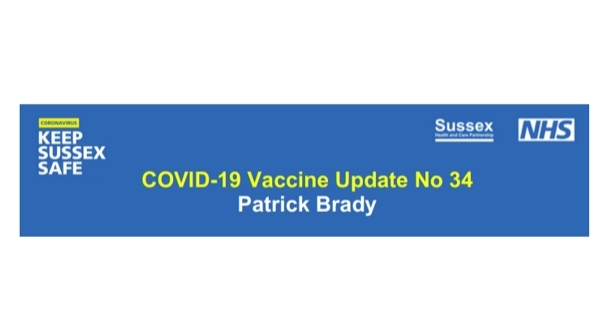 Update No 34 2nd October 2021
16- and 17-year-olds can now book their jab online
This week the NHS is calling for any 16- or 17-year-old who hasn't had their COVID vaccine yet to come forward. It is now even easier for people aged 16 and 17 to get the all-important COVID-19 vaccination as they can now use the national booking system to book online.
This means they can now use the website or call 119 to book an appointment as well as to see the clinics and walk in sessions available for them. Hundreds of appointments are available every day in Sussex, and there are walk ins for this group each day at specific locations.
More than half of 16 and 17 year olds have now received their vaccination in Sussex and nearly three quarters of a million young people in England, around 60%, are already vaccinated.
Thousands of texts are being sent to eligible teenagers to encourage them to come forward to get protected. Messages appear as an alert from 'NHSvaccine' and include a web link to the NHS website to make a booking.
Walk in sessions are also available every day - see the latest list for this week.
More than 20 schools visited as part of 12–15-year-old vaccination offer
By the end of this week more than 20 schools across Sussex, including seven in West Sussex, will have been visited to offer 12- to 15-year-old students their COVID vaccine.
The visits, led by Sussex Community NHS Foundation Trust, have been taking place every day this week, and will be taking place over the next six weeks for remaining schools. Parental, guardian or carer consent is being sought by vaccination healthcare staff prior to their visits in line with existing school vaccination programmes.
Every parent, carer or guardian is being written to with the arrangements for their child's school and a link to the consent system. There is also a phone number for anyone who needs an alternative method. These letters will be shared over the next six weeks as the visits are arranged with schools. Children with parental consent in place will then be offered a vaccine on the day of visit to the school.
New national service to support missing or incorrect vaccination information
This week the Vaccine Data Resolution Service (VDRS) has been launched, aiming to resolve missing or incorrect vaccination records for people. To use the support you need to have been vaccinated in England, have a current NHS number and are registered with a GP practice in England.
To reach the service, simply call 119. The call agent is able to make a referral to the VDRS team on your behalf. The VDRS team will then call you back within five working days.
Please note the service is not able to provide clinical advice and cannot assist at this time with queries related to vaccinations received overseas.If the query relates to personal information that is incorrect on the patient record (e.g. name, address), these will still need to be resolved by their GP practice.
Warning as parents and schools are targeted by anti[1]vaccination hoaxes
As the school's vaccination programme continues, reports of hoax anti[1]vaccination activity is rising.
This week schools were targeted by an email pretending to be from the NHS, with a fake consent form for parents.
Head teachers were sent a "consent checklist", under a fake NHS logo, along with a letter telling them to share this with parents. But the checklist includes a series of negative claims about the risks of vaccinations to young people.
There have also been reports of parents receiving emails asking for payment for the vaccine for their child or children. Schools are being reassured that all official information will be shared through the School Age Immunisation Service (SAIS) provider in the usual way.
Parents and the public are being urged to remember, the COVID vaccination is free on the NHS and no-one will be asked to pay for it. If there are any concerns about an email or communication you have received, please contact the Vaccine Enquiries Team - sxccg.vaccineenquiries@nhs.net
First man in the Southeast to be vaccinated receives COVID booster in Midhurst
Michael Tibbs made history as the oldest person to receive the Pfizer jab in the UK on 8 December, 2020, and this week in Sussex he received his booster shot in the biggest and most successful rollout in health service history.
The 99-year-old Second World War submarine lieutenant received his booster at Midhurst Pharmacy this week just ahead of his 100thbirthday.The service is one of more than 30 across Sussex which are now giving booster vaccinations to eligible patients after the roll out started last week.
People do not need to contact the NHS but will be invited when it is their turn.
Texts and letters are going out to people to invite them to use the national booking system, and local GP vaccination services are contacting people directly.
Michael said: "I'm grateful to receive the booster vaccination as I was to receive the first. I didn't notice any side effects. Just a prick, and it's done! It's wonderful and I think it'll make a lot of difference to everybody."
Michael received his booster at Midhurst Pharmacy, where Raj Rohilla and team have been working hard to vaccinate thousands of people in the West Sussex community since the programme began in December last year.
Raj said: "It was a real pleasure and an honour to meet Mr Tibbs at our pharmacy. We feel it a real privilege to complete Mr Tibbs' vaccination journey with his COVID Booster.
"We would like to urge everyone who is invited for their COVID Booster to take up the offer and book with the National Booking System either online or by phoning 119."
Read more about our plans for the booster programme.
If you have any questions, concerns, comments or suggestions please contact Patrick Brady – Email plb11@btinternet.com Mobile 07977 50643