Dramatic mural is a statement of identity for East Croydon
Published: 05 May 2021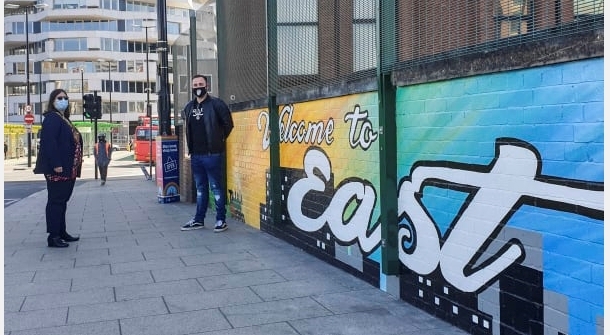 The Mayor of Croydon, Councillor Maddie Henson, unveiled a stunning 35-metre-long mural outside East Croydon station yesterday [22 April]. Featuring the area's name, it creates a dramatic welcome for Southern and Thameslink passengers emerging from the station.
The huge artwork was commissioned by Govia Thameslink Railway (GTR), parent company of Southern and Thameslink, at the suggestion of local residents and passengers. It is part of GTR's network-wide, multimillion-pound station improvement programme.
South London signwriter Joe Rashbrook designed the giant mural, with input from local rail users, GTR, Croydon Council and Network Rail, whose bridge Joe has painted.
The partners chose Joe's eye-catching, contemporary 'street art' style because it celebrates the area's vibrant ambience on a grand scale.
Councillor Henson said: "I was really pleased to unveil this amazing mural. It's a remarkable work of art and a stunning addition to East Croydon. I look forward to going past it every day and admiring it."
Joe Rashbrook said: "I am overjoyed to have had the opportunity to paint this huge artwork outside East Croydon station. It depicts some of Croydon's most iconic buildings on a colourful skyline. This is my largest project so far at nearly 50 square metres. While I was painting, I was approached by many local residents full of excitement for the new artwork at their station. I was overwhelmed with people's positivity. Thank you to all of the Croydoners who made me feel so welcome whilst painting this mural through the rain, snow and sunshine."
Chris Fowler, Southern's Customer Services Director, said: "We're proud that our station improvement programme could include such an exciting and prominent piece of public art. It's been a joy to work so closely with the local community and such a talented artist as Joe Rashbrook. I'm sure that as our passengers return to the railway they'll agree this mural makes their station a more attractive asset for Croydon.
"Thanks to the Council for allowing us to create this stunning street art, and to Network Rail for letting us decorate their bridge in such a dramatic way."
Shaun King, Route Director for Sussex said: "The new artwork on our bridge outside East Croydon station is a show-stopping addition to the town. This is a wonderful piece of work that will make a difference to the area and highlights how the railway community and stakeholders are working together.
"We own bridges and other structures across the Southern region and not only do these murals make them much nicer to look at, but they also encourage people to respect and look after them. 
www.southernrailway.com, www.thameslinkrailway.com, www.gatwickexpress.com, www.greatnorthernrail.com