gdb Member Xpress Group raise funds for fellow gdb Member Crawley Open House
Published: 03 Dec 2021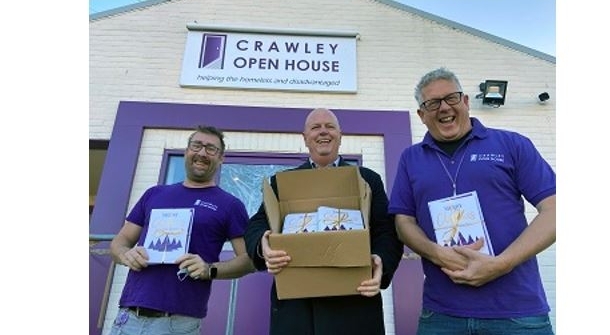 The team from Xpress Group donated and delivered 500 Christmas cards this morning to help raise funds for Crawley Open House. These are available to buy at £5 for 12. Cards on sale 10 until 4 weekdays from Crawley Open House in Three Bridges.
The charity provides support and services for those suffering the effects of homelessness, unemployment, loneliness, discrimination, or other forms of social exclusion. Their support is available to anyone in need.
With the recent series of cold snaps and winter now with us, support for this worthwhile charity is so important.
As well as selling these Christmas Cards, Open House also runs Operation Santa https://www.crawleyopenhouse.co.uk/operationsanta
Back in 2004, Radio Mercury started a campaign live on-air to support Crawley Open House provide a 3-course Christmas Dinner with all the trimmings for those suffering the effects of homelessness and social exclusion.
This is now in its 17th year and runs alongside other ways you and your business can raise funds.
You can support the homeless this Christmas by donating money by your mobile phone too! You can donate any amount, text OPSANTA to 70085 to donate £10 or any amount you like.
For example.
To donate £5 - text OPSANTA 5 to 70085
To donate £2 - text OPSANTA 2 to 70085
To donate £1 - text OPSANTA 1 to 70085