Hit the Downs MTB raises over £50,000
Published: 19 Jul 2021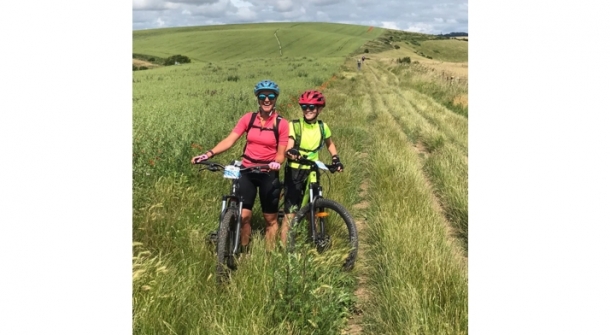 On Sunday 11 July, over 600 people took to their bikes and cycled 30km or 80km in Hit the Downs MTB, a charity mountain bike event organised by Chestnut Tree House and St Barnabas House.
Sponsorship money is still coming in, but the event is on track to raise around £50,000 for the hospices. These vital funds will help the charity continue caring for adults, children and their families both at the hospices and in their own homes.
A range of different people took part in the event, from individuals and families riding in memory of loved ones, to keen mountain bikers and corporate teams. Riders opted for either a 30km or 80km route, which started and ended at Adur Recreation Ground in Shoreham-by-Sea.
One participant who took part in the 30km route was Meika Hendriksen, with her 11-year-old son, Harry. They raised £410 for Chestnut Tree House. "I was thrilled when Harry asked if he could do Hit the Downs with me. It was our first organised bike ride together and it was so much fun," says Meika. "I'm not a very experienced cyclist so taking my son on a 30km ride was a bit daunting but knowing that we had marshals and a safe route planned was reassuring.
"Everyone was lovely, it was really well organised and there was so much happiness around the whole route. I think we smiled all the way. We can't wait to take part again next year!"
Sophie Henderson, Events Fundraising Executive for St Barnabas House and Chestnut Tree House said: "We would like to say a massive thank you to everyone who took part in Hit the Downs MTB. This year, we introduced a brand new 80km route and are delighted that so many riders signed up to the challenge.
"Both Chestnut Tree House and St Barnabas House rely heavily on the support of the local community so that they can continue to provide all their vital specialist care services, so events like Hit the Downs MTB are invaluable.
"We would like to thank everyone involved in making the event happen. Firstly, the cyclists, who have been extremely patient and supportive as we've made various changes to the event date and procedures to ensure everyone's safety. But also the people who supported and sponsored the event, such as South Downs Bikes, Giant, Natures Way, @Home Estate and Lettings Agents, Coops Coffee, Boca Loco and all our amazing volunteers."
To get involved with Chestnut Tree House and St Barnabas House, please visit www.chestnut.org.uk or www.stbh.org.uk