HRH The Princess Royal visits Time 24
Published: 07 Oct 2021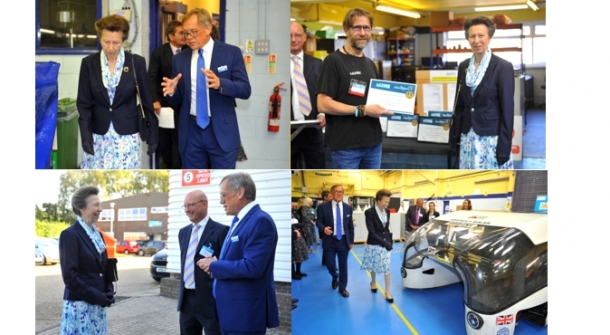 HRH The Princess Royal makes TIME to celebrate in Burgess Hill
Many companies struggle to hang on to good employees. But in Burgess Hill on Wednesday (September 21), HRH The Princess Royal helped one celebrate the fact that few apparently want to leave!
Fifty-two of the 98 local staff at world-class manufacturer Time 24 have collectively put in more than 900 years service with the firm – an average of 17 years each.
For colleagues Nick Halsey, Colin Grimsley, Sue Smith, Paul Bartram, Karen Taylor, James Greenfield and Nigel O'Sullivan, though, it's been almost a lifetime's work. They individually clocked up 25 years or more with the electronics wiring specialist in 2020.
Such continuity of service was a significant personal and professional milestone, said Time 24 Director and Co-founder David Shore. More than that, the team's loyalty had been key to building the company's global reputation. So, he was delighted their achievement had been recognised by Her Royal Highness who visited to present long service awards.
"In the sectors in which we operate, dependability and consistently high standards are key and we must rely on our staff to perform as a team to the best of their ability, each and every day," said David. "We know we are very fortunate in having such a dedicated, skilled and lovely bunch of people – some of whom we've known from the very earliest days of Time 24. Our success is very much their success."  
Time 24 has shown spectacular growth recently, expanding 85 per cent since 2017. It supplies components to clients operating in high-safety environments, including civil and military aircraft, public transport and cancer treatment centres. Notably, it has provided wiring and electronics for more than 30000 UK rail carriages, 500 aircraft simulators, 1000 radiotherapy machines and over 1000 microchip manufacturing machines.
Established in 1987, Time 24 now also operates a manufacturing site in the Czech Republic, but it is in West Sussex that David and co-founder Mark Willifer, have really embedded themselves and the company in the life of the community.
That was demonstrated to Her Royal Highness during her tour of the plant when students from Ardingly College joined staff to display the solar car they've been building on the Time 24 shop floor.
Ardingly was the first school in Europe to design, build and race a solar-powered vehicle 3,020km from Darwin to Adelaide. Their second car travelled from John O'Groats to Haywards Heath this year. The students are now working on designing a flatpack solar car for the developing world.
"It's been inspiring watching these young engineers build the future they want to see," said David. "Perhaps one day they too will found or join a company like ours that they never want to leave!"