More comfort and communication for returning rail passengers
Published: 06 Aug 2021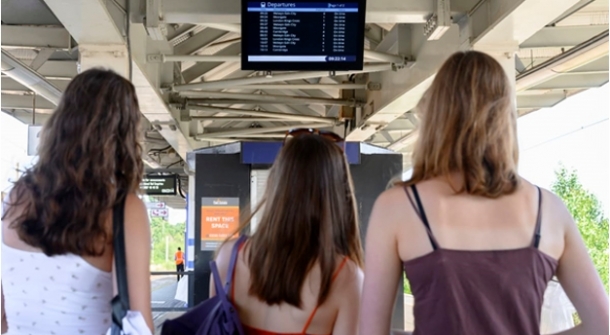 Multimillion-pound improvement programme by Govia Thameslink Railway promises returning rail passengers a better station experience
1,500 square metres of waiting rooms, shelters and canopies built or refurbished – more protection than 2,000 umbrellas
nearly 3,000 new seats installed – more than the Royal Festival Hall
over 100 new customer information screens installed across the network, with a combined display area of over 50 square metres
Great Northern, Thameslink and Southern passengers returning to their stations as lock-down restrictions ease will be able to enjoy a host of new features designed to give them a better journey experience.
Over the past year, the train operators' parent company Govia Thameslink Railway (GTR) has installed around 1,500 square metres of new or refurbished waiting rooms and shelters, almost 3,000 seats, and over 100 new customer information screens.
If stacked in a pile, the new information screens would reach almost 60 metres, taller than Nelson's Column. Their total screen area is over 50 square metres and together they weigh nearly four tonnes.
The modern screens have the latest software and display technology. Information is clearer and can be shown graphically (such as the length of the approaching train), and in a range of colours. Importantly, they all meet the latest accessibility requirements. They are also more reliable than the older generation, many of which GTR have now replaced.
Passengers at 55 stations, from King's Lynn in Norfolk to Arundel in West Sussex, will see at least one new screen. The stations with most are Potters Bar, where all 14 old screens have been replaced, and Oakleigh Park, where all seven of its 20-year-old screens have been swapped out. Hadley Wood has six – (four completely new, and two replacements) as does Knebworth (two new screens and four renewals.) 
Tom Moran, Managing Director for Thameslink and Great Northern, said: "We are installing plenty of new screens where our passengers told us they were most needed, as well as replacing some older screens with new ones. Putting additional screens towards the end of platforms - the north end of Platform One at Letchworth Garden City is a prime example - encourages passengers to spread out. This helps minimise crowding at busy times, which also speeds up boarding and improves punctuality. We've also installed more screens near station entrances because providing information before passengers go through the gates can save them time and effort."
The improvements are part of a network-wide, multimillion-pound programme involving more than 1,000 projects, many requested by local passenger and community groups, at 250 stations. Launched in September 2020, the programme is now over 90 per cent complete.
Illustrating the programme's scale, Tom Moran continued: "To make your stations more comfortable there are now 25 new or refurbished waiting rooms, over 100 shelters and canopies, nearly 3,000 new seats and 90 re-furbished toilets. That's more shelter than you'd get from 2,000 umbrellas, and enough new seats to fill the Royal Festival Hall!"