RISE Research and Innovation - Webinar 16th December
Published: 14 Dec 2021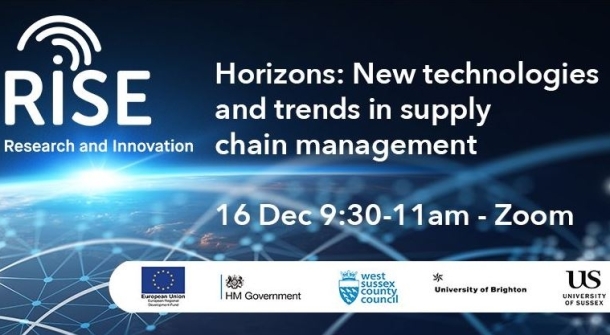 Our Horizons programme is a series of inspiring, thematic and sector specific workshops, created to share cutting edge research and insights to help develop innovative approaches that will enable you to build resilience to national and global challenges within your business.
Our first series on Supply Chain Management will share insights into how emerging technologies are transforming global supply chains and will provide you with a valuable overview of the latest innovations in supply chain management and a deeper understanding of the rapid changes and advances impacting this area.
Experts from the University of Brighton and University of Sussex Business Schools will share insights from the top ten areas you need to know about as a small-to-medium sized business in order to retain your competitive edge!
Webinar outcomes:
Understand the concept of uncertainty in supply chain management
Learn new frameworks and tools to think about new, potentially disruptive technologies and trends
Identify how quickly these changes will impact your business and your supply chain
Webinar topics covered:
A brief insight into
5G
Additive manufacturing
Augmented reality/virtual reality
Autonomous trucks and delivery drones
Blockchain technology
Robotics
Big data (Internet of Things and AI)
At the end of the session participants will vote for which topics they would like 'deeper-dive' workshops session on as part of this Horizons cohort of workshops.
These free to attend workshops will be delivered in the new year and will help to develop your knowledge and support your supply chain R&D project idea.
Who should attend:
Persons who have strategic responsibly for supply chain and operation in a business and who want to innovate in this area.
Delivered by experts:
Panel speakers include:
Logistics and Supply Chain Management experts Dr Kamila Walters and Asher Rospigliosi,from the University of Brighton's School of Business and Law, and Dr Maria Holgado Granados and Dr Aniekan Essien from the University of Sussex's Business School and Supply Chain 4.0 hub. Presentations will be followed by Q&A.
To Book -  https://rise-innovation.uk/event/horizons-new-technologies-and-trends-in-supply-chain-management/