Update No 35 16th October 2021
Published: 21 Oct 2021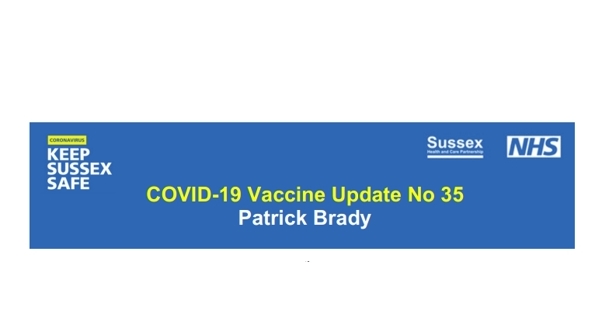 People urged to protect themselves this autumn
A new film urges people to come forward for their flu and COVID-19 vaccinations ahead of the winter. It comes as new research suggests adults are underestimating the combined threat of COVID-19 and flu this winter. There could be a significant flu surge this winter coinciding with continuing or rising COVID-19 cases. This is due to colder weather which favours transmission, darker nights which mean increased social contact indoors where it is less well ventilated and expected lower immunity to flu due to lower levels in circulation last winter.
A recent survey seeking views from 3,000 people found that nearly one third (32%) were unaware that flu and COVID-19 can circulate at the same time, over a quarter (26%) did not know that flu can be fatal and over half (55%) underestimated the number of people who die from flu in an average year in England (which is approximately 11,000). The new film sees media medics Dr Amir Khan, Dr Dawn Harper and Dr Karan Ranj explain why it is more important than ever for people to get their winter vaccines as soon as possible this autumn, as both viruses have the potential to cause serious illness and hospitalisation.
Read more about our plans for the booster programme.
Thousands of schoolchildren now protected against COVID
More than 8,500 12- to 15-year-olds have now received their COVID-19 vaccine in Sussex, as the roll out for teenagers continues. It comes after the Government announced last month that all 12- to 15-year-olds would be offered one dose of the Pfizer-BioNTech Covid vaccine.
In Sussex, school visits started two weeks ago and to date, 56 schools have been visited. The vaccinations are being coordinated by the health teams who normally run school's immunisations visits, including flu and HPV, led by Sussex Community NHS Foundation Trust. Parental consent is sought in advance and only children with consent in place will be offered the vaccine on the day of the visit.
To date fewer than one in five had declined the vaccination. In total across Sussex there are more than 50,000 children who will be eligible for a vaccine as part of this roll out. The aim is to have offered the vaccine to all 12- to 15-year-olds by October half- term, and to have completed the school visits in November.
People urged not to delay vaccination during pregnancy
The NHS in Sussex is urging everyone who is pregnant to make sure they receive their COVID-19 vaccination this autumn. It comes as new data has revealed that nearly 20% of the most critically ill Covid patients are pregnant people who have not been vaccinated. Double-jabbed mother of two, Sarah- Jane Robertson, who gave birth to a healthy baby girl a few weeks ago, said: "I can understand why some people who are pregnant are perhaps reluctant to get jabbed, as this is how I felt right at the beginning of my pregnancy, mainly due to lots of misinformation I was hearing and reading at the time. "However, it wasn't until I went away and did my own research, spoke to my Dr and a friend abroad, who is a specialist in this field and told me I was insane not to get the jab, that I began to change my mind. "What really pushed me to signing up for my vaccination was when a pupil at a school I teach at had both parents catch the Delta variant and were in ICU for over a month. I remember thinking at that time that I have a three-year-old and the reality of how severe this virus was and how it affected the young children in this family, really hit home."
Read more about vaccinations during pregnancy
Frontline health and care staff urged to book boosters today
Frontline health and social care staff are now able to use the National Booking System to arrange their booster. With hundreds of appointments available at vaccination centres across our communities, frontline staff who are at six months from the date of their 2nd vaccine are urged to take the opportunity to use the website or 119 to book their appointment today.
Alongside hospital hubs which are vaccinating their workforce, all eligible health and care staff will be able to book at any of the vaccination centres, pharmacy led services or GP led services on the National Booking System.
See more about which staff are eligible - and the evidence you need to take with you.
New national team to support issues with vaccine proof in the NHS APP
The Vaccine Data Resolution Service (VDRS) has been set up to help people with missing or incorrect vaccination records. If you have been vaccinated in England, have a current NHS number and are registered with a GP practice in England then the service can help resolve issues with evidence of your vaccinations. If you have missing or incorrect COVID-19 vaccination data, please call 119 and ask the call handler to make a referral to the VDRS team on your behalf. The VDRS team will then call you back within 5 working days.
Please note they cannot provide clinical advice and cannot assist at this time with queries related to vaccinations received overseas. If the query relates to personal information that is incorrect on a patient record (e.g. name, address), these will still need to be resolved by their GP practice.
If you have any questions, concerns, comments or suggestions please contact
Patrick Brady – Email plb11@btinternet.com Mobile 07977 50643