Update No 39 20th November 2021
Published: 22 Nov 2021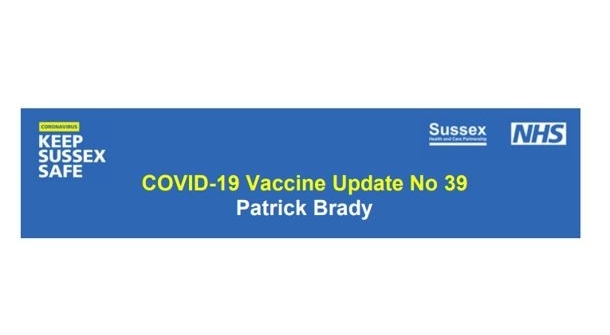 Two key updates for the programme this week
On Monday two key announcements were made for the programme:
40- to 49-year-olds are now eligible for a booster vaccination when they reach six months from their second dose
16- and 17-year-olds who are not in an at-risk group should be offered a second dose, 12 weeks or more following the first vaccine dose.
The move has been taken to reduce mortality, morbidity and hospitalisations from COVID-19 over the 2021 to 2022 winter period and through 2022, as well as to minimise the COVID-19 case infection rate and the chance of new variants emerging.
We are expecting the operational guidance from NHSE and national protocoland expect both groups to be able to start to arrange their vaccines next week.
More than 380,000 people protected by their booster
Latest figures show that to date 387,186 booster vaccinations have been given across Sussex - this includes 208,743 people who have received their booster in West Sussex. This means that 67.7% of the total eligible population are now protected by their booster for the winter
Clinics are taking place across vaccination centres, GP led services and pharmacy led services. People can either book through the National Booking System or some services are contacting patients directly.
If you are eligible for your booster, you can book your appointment through the National Booking System - either the website or by calling 119. The NBS can be accessed here: Book or manage your coronavirus (COVID-19) vaccination - NHS (www.nhs.uk)
If you can't see a local service this may mean it is contacting patients directly -please check our website to see the latest list of services: West Sussex vaccination services - Sussex Health & Care Partnership (sussexhealthandcare.uk)
Thousands of new appointments for Chichester now available on the National Booking System
This week thousands of new booster appointments at the vaccination centre in Chichester have been added to the National Booking System.
The service at Northgate car park has released new times and dates all the way to Christmas - with now 600 appointments a day being booked through the system. There are also two pharmacy led services in the area who are also on the National Booking System, and the GP led service at Sidlsham is contacting people directly and vaccinating more than 1000 people a week.
If you are eligible you can check out these new appointments by visiting Book or manage your coronavirus (COVID-19) vaccination - NHS (www.nhs.uk) or call 119.
Parents and carers urged to protect their two-and three[1]year olds against flu
This week the NHS is calling parents of 2 to 3-year-old pre-school child to please make an appointment with your GP practice for them to have their flu vaccine.
The nasal spray flu vaccine is free on the NHS for:
children aged 2 or 3 years on 31 August 2021 – born between 1
September 2017 and 31 August 2019
all primary school children (reception to year 6)
all year 7 to year 11 children in secondary school
children aged 2 to 17 years with long-term health conditions
Three-year-old year Alana was vaccinated in October, her mother Sabahat Hassan, said: "It's really important that my daughter gets the flu jab each year as I don't want her to become unnecessarily unwell.
"I also know that children can be super spreaders, and the last thing I would like would be for my parents to become unwell because I did not take up the opportunity to vaccinate my child."
Even if your child had a flu vaccination last year, the type of flu can vary each winter, so it is recommended that they have the flu vaccine each year to boost their immunity.
Vaccination service reaches 500,000 milestone
Last weekend Alliance for Better Care, the GP Federation that is running vaccination services in the north of West Sussex administered its 500,000th vaccination.
This is an incredible milestone for all of the teams involved in the services in Crawley, East Grinstead, Haywards Heath and Horsham.
To mark this milestone they've made a short film that not only documents the many highlights of this programme but also serves as a thank you to everyone who has contributed.
If you have any questions, concerns, comments or suggestions please contact
Patrick Brady – Email plb11@btinternet.com Mobile 07977 50643