Vaccine Update No 32
Published: 23 Sep 2021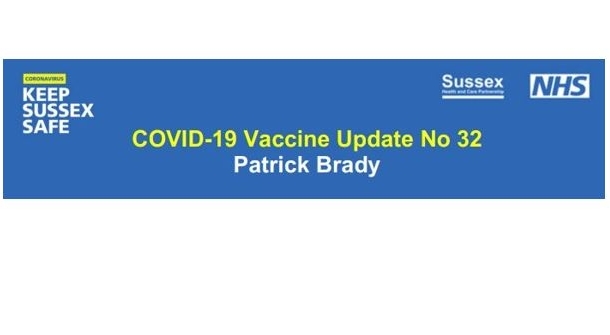 Vaccines approved for use as boosters
The Medicines and Healthcare products Regulatory Agency has made a statement today, 09 September 2021, that both Pfizer and AstraZeneca vaccines can be used as safe and effective booster doses.
This follows their use for the initial phases of the vaccination programme.
It will now be for the JVCI to advise on whether booster jabs will be given and if so, which vaccines should be used.
Read more about the plans for an autumn booster roll out.
More than 8 out of 10 adults now double vaccinated
Latest figures show that in West Sussex more than 8 out 10 of all adults have now had both vaccinations. The data shows that 87% of all over 18s have had one dose and 81% have had both vaccinations. It also sets out that more than half of 18-29 year olds - the last adult group to be become eligible - has already come forward to receive both jabs.
Then in terms of 16 and 17 year olds more than half are already protected with their single dose with hundreds more booked in for appointments this week.
Read more about the roll out of the programme to date.
Brand new film to encourage young people to come forward
With schools and colleges returning for the new term this week, the NHS and partners have been working this week to encourage as many young people as possible to come forward for their vaccine.
16- and 17-year-olds are entitled to one vaccine, and anyone aged 17 and three quarters can have both doses. Just one dose of the COVID-19 vaccine gives protection against the virus and protects the individual and those around them.
To help encourage those who are still to come forward, Tanya Mawarha, one of the programme's vaccination champions, has produced a film to speak to young people about the need to get their vaccination.
Want to attend a walk-in session this week?
There continue to be lots of opportunities to get your vaccine this weekend if you are looking for your first or your second dose. Walk in sessions are taking place across our communities to make it as easy as possible for people to receive their vital protection.
See the full list of walk-in sessions in West Sussex this weekend.
Information for anyone needing an AZ vaccine
There is now lower demand for the AstraZeneca vaccine after the younger age groups have been offered the Pfizer and Moderna vaccines, however we want to reassure anyone who needs a second dose of the AstraZeneca vaccine these are still available.
Vaccination services have supplies for the patients that they know need a second vaccine of AstraZeneca - but it may not always be available at walk in sessions.
Please check the details of what vaccine type is being used at each session on our website before attending to avoid disappointment.
If you have any questions, concerns, comments or suggestions please contact
Patrick Brady – Email plb11@btinternet.com Mobile 07977 5064