Volt - How to start on your Diversity, Equity & Inclusion journey?
Published: 15 Apr 2021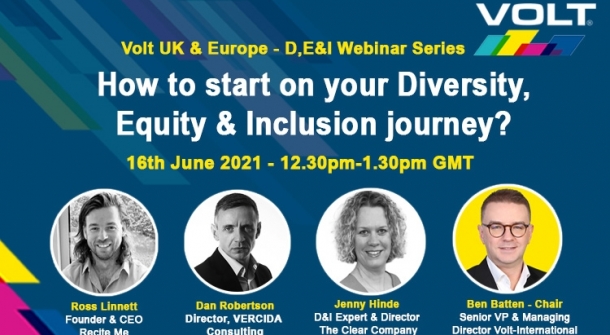 Volt are running a webinar series on the major topics impacting the D,E&I agenda in UK and Europe.
Date: 16th June 2021
Time: 12.30pm – 1.30pm, GMT
Chair: Ben Batten – Senior VP and Managing Director at Volt International.
Panel Speakers:
Ross Linnett – Founder & CEO of Recite Me - Global leading Enterprise SaaS accessibility solution provider supporting millions of users to view content online barrier-free around the world.
Dan Robertson – Director at VERCIDA Consulting - Global D&I consultancy transforming the workplace into a diverse and inclusive environment with science and psychology underpinning their approach to inclusive management.
Jenny Hinde - D&I Expert & Director at The Clear Company - Leading global D&I consultancy offering inclusive recruitment and talent management insight, training and technology. D&I Audit processes and market leading training and online toolkits provide direction and support to client's inclusion journey's at all stages of the employee life-cycle.
Feed post
Volt are running a webinar series on the major topics impacting the D,E&I agenda in UK and Europe.

Webinar: How to start on your Diversity, Equity & Inclusion journey? 16th June 2021 – 12.30pm – 1.30pm, GMT.

Chair: Ben Batten – Senior VP and Managing Director at Volt International.

Panel Speakers:
Ross Linnett – Founder & CEO of Recite Me - Global leading Enterprise SaaS accessibility solution provider supporting millions of users to view content online barrier-free around the world.

Dan Robertson – Director at VERCIDA Consulting - Global D&I consultancy transforming the workplace into a diverse and inclusive environment with science and psychology underpinning their approach to inclusive management.

Jenny Hinde - D&I Expert & Director at The Clear Company - Leading global D&I consultancy offering inclusive recruitment and talent management insight, training and technology. D&I Audit processes and market leading training and online toolkits provide direction and support to client's inclusion journey's at all stages of the employee life-cycle.

Register: https://lnkd.in/g8yehdQ