Walk for Wildlife – Sussex Wildlife Trust 60th Anniversary Challenge
Published: 17 Sep 2021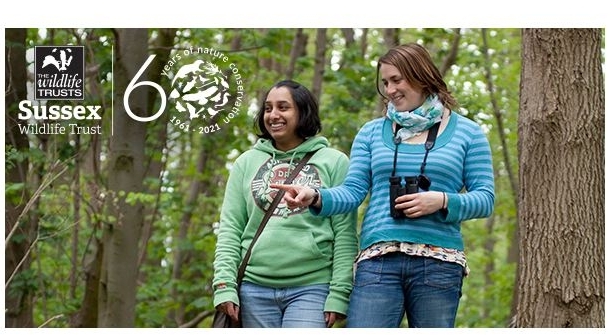 Are you looking for a fun and engaging teambuilding event, whilst you're still working remotely, or gradually bringing the team back to the office
In celebration of their 60th anniversary Sussex Wildlife Trust invite you to take part in it's Walk for Wildlife challenge, this autumn
As you walk, run, cycle and paddle in your local area the miles you travel will move you along our interactive map taking you on a virtual journey from Woods Mill Nature Reserve to the newly opened Rye Harbour Discovery Centre, which is just over 60 miles.
Your personalised event page will allow you to share your adventures by manually logging your mileage or linking to Strava. You will also be able to share photos of your journeys, and any wildlife you may see.
Along the way you will learn about Sussex Wildlife Trust's reserves, local habitats and wildlife as well as raising vital funds for the wildlife in Sussex. As you reach each checkpoint, you will receive an email full of captivating images and activities you can do at home or in your local community to help you take action for Wildlife. These will include spotter sheets, activities for the kids and how-to guides. 
Sign up today and compete against your colleagues https://register.enthuse.com/ps/event/WalkForWildlife60thAnniversaryChallenge