Your budget and tax news from Carpenter Box
Published: 29 Oct 2021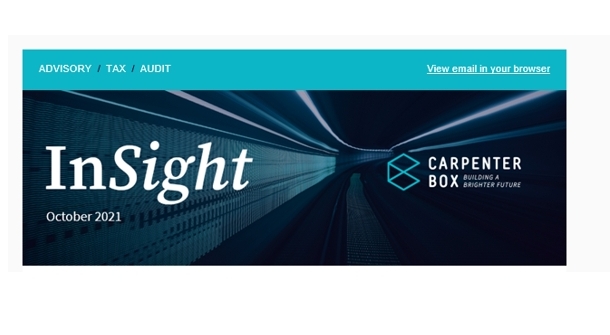 Autumn Budget 2021
Throughout the pandemic, the government has been paying out unprecedented amounts of support to employers, businesses, and self-employed people to protect the economy from collapsing.
This is at the same time as incurring all the costs of supporting the health system through its greatest crisis. We have been waiting for the bill to arrive – the tax increases that will pay for it all.
Instead, Chancellor Rishi Sunak spent most of his speech spreading more money to every corner of the United Kingdom. Although he started by saying 'we have challenging months ahead', he moved rapidly on to what he called 'an economy fit for a new age of optimism'.
Our Budget Summary puts together the most important points and explains how they affect businesses and individuals. At the back of the Summary you will find a calendar of the tax year with important deadline dates shown.
New timetable for EU to UK border controls from 2022
Supply chains in the UK and across Europe have been drastically affected by the Global pandemic.
As a consequence, the Government has now set out a new timetable introducing full import controls for goods being imported from the EU to the UK. The revised timetable will allow businesses to adjust to new processes being phased in across 2022.
Full customs declarations and controls will be introduced on 1 January 2022 as previously announced, although safety and security declarations will now not be required until 1 July 2022.
Doing business in the Netherlands: A guide to getting started
Date: Thursday 4th November 2021
Time: 9.00-10.00am
Delivery: Zoom (registration required)
In this webinar, Carpenter Box hosts Mark-Jan van der Weerden and Peter-Paul Derks from Joanknecht to discuss doing business in the Netherlands.
Join this webinar designed specifically for SMEs looking to expand their business into the Netherlands to find out:
How the Netherlands can be your gateway to the EU market
The regulatory environment: long term trends and hot topics
Business case studies for services: R&D centre and sales office
Business case studies for goods: Online consumer electronics retailers and online supermarket
South East Property Newsletter – Issue 1
Carpenter Box is pleased to launch the first issue of our newsletter for Construction and Real Estate businesses.
With the changing economic landscape, construction remains a vital part of the UK economy, particularly in the South East. This new quarterly newsletter from the Construction & Real Estate team at Carpenter Box seeks to cover the latest news, trends, challenges and opportunities facing the sector.
Our first issue looks at the impact of the Domestic Reverse Charge, which came into effect earlier this year at a difficult time for the sector. We offer our top tips to deal with the charge and its impact on your business. The team also look at plans for infrastructure around the world and the tax changes in store for landlords in the coming years.
Solicitors Update Series: Tax and financial planning for partners
Date: Wednesday 10th November 2021
Time: 12.00-12.45pm
Delivery: Zoom (registration required)
Partners of professional practices and legal firms are often unaware of the personal wealth and tax planning opportunities unique to them.
Join this live webinar designed specifically for partners who are considering their future finances and are looking to understand the options available:
Pension planning as a source of future income and a tax-saving strategy
Tax efficient investing and ways of saving for the future
Protection for partners and your employees
Tax planning for other investment incomes and assets
The UK's Green Agenda and the Climate Change Levy
The government has agreed to invest £166 million of funding to help innovators, businesses, academics and heavy industry. The investment will accelerate the delivery of the technologies needed to further drive Britain's climate change ambitions.
The funding package will develop technologies in carbon capture, greenhouse gas removal and hydrogen, whilst also helping find solutions to decarbonise the UK's polluting sectors.
The UK government offers many environmental tax and relief programmes to encourage firms to operate in a more ecologically responsible manner in response to the effects of climate change.
Running a sustainable business: a guide to getting started
We're all keen on doing the right thing but it's got to make commercial sense too. So, why should you make your business sustainable and what are the benefits?
The McKinsey Report published in 2019 Five Ways that ESG creates value cited "When it comes to Ethical, Social and Governance factors (ESG), a do-nothing approach is usually an eroding line, not a straight line".
In this blog we break down some of the buzz words and acronyms around sustainability and running a business so you can really get going with some practical tips and inspiration.
Macmillan Coffee Morning a sweet success!
With restrictions lifting and more people returning to the office, we were thrilled to welcome back the return of our annual Macmillan Coffee Morning earlier this month!
Our staff put in such an amazing effort in our Worthing and Gatwick offices with generous donations given by all.
A staggering £413.64 was raised from the day from a combination of online and cash donations which will go to help Macmillan Cancer Support provide specialist health care, information and financial support to people affected by cancer.
Read more about our fundraising
What's fuelling the Automotive sector in 2021 and beyond?
The automotive industry has been one of the hardest hit during the peaks of the coronavirus pandemic and has faced many testing times in the last 18 months. In this blog we take a look at some of the contributing factors and what lies ahead for the sector.
Car production came to an abrupt stop in the UK and Europe when the first lockdown came into place in March 2020. Tight restrictions announced virtually overnight meant that factories had to ensure their premises met COVID-19 guidelines and safety measurements before being allowed to re-open.
By the arrival of the second lockdown in November 2020, employees were allowed to work from home and production was allowed to go ahead. This continued throughout lockdown three from January this year, although there were serious declines in sales. This was no doubt due to the Government's order for the public to stay at home in parallel with the rise of remote working resulting in less need for travel as well as furloughed workers and redundancies.
Find out more about the Automotive sector
7 tips to protect your Charity against internal fraud
October 18th – 22nd marked Charity Fraud Awareness Week and is headed up by The Charity Commission. This year Charities and NFP's are being asked to make a difference by signing the pledge to actively prevent fraud wherever it may occur in their organisation.
Fraud is defined by the Fraud Act 2006 and is essentially wrongful and dishonest behaviour undertaken for personal gain. The Act targets not just the consequences of the fraudster's actions but their behaviour. There is therefore a need to establish an element of dishonesty and evidence of an intention to make a gain (or cause a loss).
There are a number of warning signs to look out for that may indicate internal fraudulent behaviour, as well as environmental circumstances that may facilitate it. We outline some of the key signs for consideration, with thoughts on what can 
be done to address them.
Carpenter Box Financial Advisers news update
Read the October newsletter!
October begins with fuel dominating the headlines, or rather, a lack of it. With an estimated shortage of 100,000 HGV drivers, petrol isn't the first industry to be hit, with supermarkets and fast-food chains already having felt the impact. Thankfully, oil companies have been quick to inform the public that there is plenty of fuel available, so as the logistics come under control, we hope to see full petrol tanks up and down the country in a sustainable manner.
This newsletter covers:
Recent financial movements within the UK, including industry updates and the state of the economy
European news
A global overview: the US, Far East and Emerging Markets
Upcoming events:
Resources:
2021 Autumn Budget Summary
South East Property Newsletter: Issue 1
Autumn 2021 Newsletter
Tax Rates 2021-22
Financial Update October newsletter
Academies newsletter: Autumn 2021
School Fundraising Guide
IR35 Fact Sheet
Domestic Reverse Charge
Electric car tax considerations
The Momentum of Electric Vehicles
Trust Registration Service fact sheet
SDLT for mixed-use transactions
For a full listing of our resources and information sheets, visit our resources page on the Carpenter Box website. 
Key dates and deadlines
31 October 2021
Deadline for paper submission of self-assessment tax return for tax year ended 5 April 2020.
Filing deadline for corporation tax return self-assessment form CT600 for period ended 31 October 2020 to be submitted to HMRC.
Company accounts filing deadline.
01 November 2021
Corporation tax payment due for year end 31 January 2021, for those companies not liable to pay their liability by instalments.
07 November 2021
Due date for September VAT returns unless exempted.
19 November 2021
Monthly postal PAYE/class 1 NICs/student loan payment
22 November 2021
Monthly electronic PAYE/class 1 NICs/student loan payment
30 November 2021
Filing deadline for corporation tax return self-assessment form CT600 for period ended 30 November 2020 to be submitted to HMRC.
Deadline for filing your annual accounts is 9 months after your company's financial year ends.