30 challenges for 30th birthday
Published: 04 Apr 2022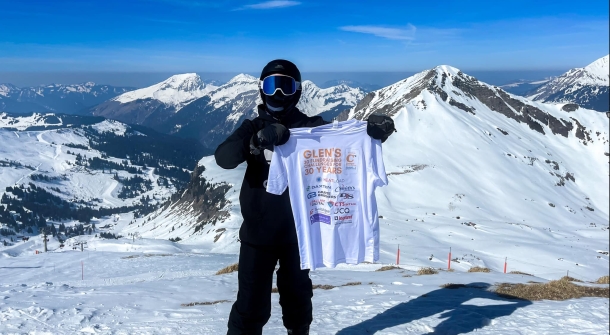 Glen Wolfenden turns 30 on 30 April 2022, and he's celebrating in a unique way - by taking on 30 challenges to raise money for local children's hospice, Chestnut Tree House.
Giving himself a year to complete 30 challenges, Glen started with a New Year's Day dip in the sea, and has since completed a  28 day plank challenge, virtual swim of the English Channel, and snowboarded 100km  in three days  in Morzine, France. With over eight months to go, the challenges promise to push Glen outside his comfort zone. "I am taking on a 300ft Bungee Jump at Bray Lake in Windsor in August," said Glen. "I'm really not a fan of heights, so it's safe to say I'm feeling nervous about taking on that challenge!"
Upcoming challenges vary in physical and mental difficulty, ranging from a 'Man v. Food' inspired challenge to a 105km cycle round the Isle of Wight.
Speaking about why he wanted to take on these challenges to raise vital funds for Chestnut Tree House children's hospice, Glen said: "I wanted to do something different for my 30th year."
"My wife volunteered at Chestnut Tree House for a few days with her work. She came home and told me about the amazing care that they are providing to children and families in our local community. As a father to a 8-month-old son this really spoke out to me and made me feel motivated to support Chesnut Tree House so that children and their families can make special memories together."
Glenn is already well on his way to reaching his £5,000 target. "So far the response to my fundraising has been fantastic, and I'm looking forward to seeing how the year develops!"
To sponsor Glen, please visit: https://www.justgiving.com/fundraising/glen-wolfenden1