Charity walk - YMCA Downslink Challenge 2022
Published: 31 May 2022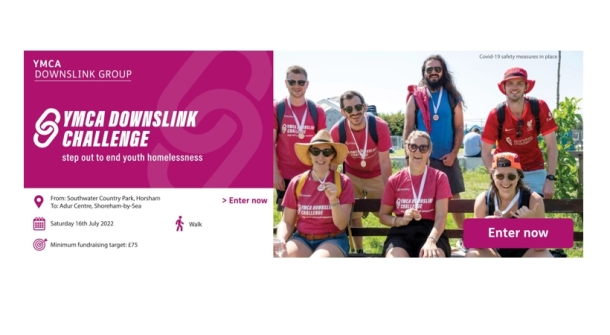 Hello! Just to introduce myself real quick, my name is James from YMCA Downslink Group.
We have centres in Crawley, Worthing, Brighton, Eastbourne and Horsham and a community outreach centre in most of the towns in between where our services are also delivered.
Our charity mission is to keep young homeless people off the streets by providing safe accommodation along with the counselling, advice, training, education, and support to help them work towards a more meaningful future.
I am hoping our charity event we have coming up on Saturday 16th July will appeal to my fellow members of GDB.
The Downslink Challenge is a 17.5 mile walk from Southwater in Horsham to Adur Centre in Shoreham. It is a challenge (although the path is really flat!).
Here is a 30 second flavour of the event
With a reasonably low fundraising target (£75pp) it is designed to be accessible, fun, challenging (for some!), great for team building, engaging but most importantly it will help us fund our projects. I am sure you will appreciate the challenges of homelessness in the South-East particularly for young people who are looking to escape violence, physical / mental / sexual abuse, and exploitation. All of these causes/triggers for homelessness have increased dramatically since Covid. Compounding the issue is we receive no central funding for these services and with cost of living increasing, this only increases the pressure. Without meaning to sound overly dramatic - we simply cannot cope without the engagement of those who live and work in our community.
There are several sponsorship options (starting at £500) which are a great way to support us and promote your brand/products or services.
If you'd like to support us or explore it as a possibility – I'd really welcome a chat!