COVID-19 Vaccine Update No 48
Published: 18 Feb 2022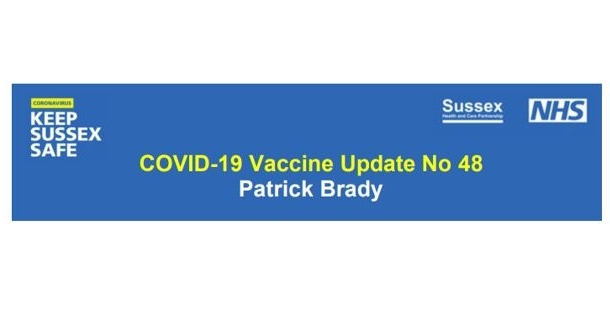 Update No 48 14th February 2022
Efforts step up to make sure that no-one misses out
Vaccination teams across West Sussex are increasing the number of mobile and pop up vaccination sessions to make sure that everyone has the opportunity to have their COVID-19 vaccination.
The aim of this work is to both make it as easy for people as possible to get their jab or to get advice, and to visit specific communities where there may be hesitancy or barriers to accessing the vaccine.
In terms of community sessions, there has been an increase in mobile clinics across Crawley to visit local communities and support them with information and advice.
A walk in session is also taking place in Worthing Town Centre this Saturday to catch shoppers and people visiting the town.
This week, there have also been specialist clinics for people who are experiencing homelessness in Bognor Regis and Chichester.
And the team at Alliance for Better Care have been out to visit gypsy, roma and traveller communities.
Mary told the team she felt very comfortable with the team visiting her and appreciated them coming to the site rather than travelling to the vaccination site.
More outreach work like this continues over the coming weeks to ensure everyone has the opportunity of a vaccination.
Vaccinations continue for children aged 5 to 11 who are at risk in West Sussex
Special clinics are continuing this week for children aged between 5 and 11 who are most at risk of COVID-19.
Children aged 5 -11 who are in a clinical risk group or who live with someone who is in immunosuppressed are now able to get the first dose of the COVID vaccine.
Eligible children include those with diabetes, immunosuppression, learning disabilities, and other conditions as outlined by the UK Health Security Agency in the Green Book.
Parents and guardians should wait for the NHS to contact them for when it is their child's turn to get the life-saving vaccine.
GP led teams have been identifying eligible children ahead of vaccinations starting – and are starting to contact families either directly or via the team providing their COVID-19 vaccination service.
All eligible 5-11 year olds will be offered two 10 microgram doses of the Pfizer vaccine eight weeks apart – a third of the amount used for adult vaccinations.
Some clinics are taking extra steps to put this group of children at ease – like Frozen's Elsa visiting East Grinstead's vaccination service last week.
Get your 12- to 15-year-old protected ahead of half term
Families are encouraged to get their 12- to 15-year-olds vaccinated ahead of half term at the end of the month. Over the days ahead, hundreds appointments are available for 12 to 15 year olds searching for their COVID-19 vaccination.
The appointments, available at vaccination services, can be booked through the national booking website or by calling 119. There are appointments every single day and at a range of locations across our communities.
There are also walk-in sessions taking place specifically for anyone aged between 12 and 15 to receive their first or second COVID-19 vaccination. No appointment is needed at these sessions and families (including a consenting parent) can simply turn up, receive advice and information, and vaccination.
Both of these options is in addition to sessions that are taking place in every secondary school in Sussex to offer vaccinations to teenagers. Families will receive direct communications from schools to share the dates and consent forms for these sessions. The schools vaccination team is also planning catch up sessions for half term and these will be shared again via schools.
See a full list of specific walk-in sessions in Sussex for 12 – 15s.
For more information on vaccinations for 12 – 15 year olds, go to the Sussex Health and Care Partnership website.
NHS COVID Pass now extended to 12- to 15-year-olds for foreign travel
The NHS COVID Pass is being extended for fully vaccinated 12–15-year-olds for international travel only. Young people can now get the digital version of the NHS COVID Pass as well as a letter version for international travel. To get a digital NHS COVID Pass for travel you need one of the following:
To be fully vaccinated with a COVID-19 vaccine used in the UK
The NHS COVID Pass is usually available within 24 hours of having your vaccination, but it can take up to 5 days for your records to be updated.
A positive NHS PCR test within the past 6 months (not available in the Isle of Man)
The NHS COVID Pass is available after you've finished self-isolating and up to 180 days after taking the test. This applies to NHS tests sent by post, or done at walk-in sites, drive-through sites or hospitals.
A number of countries across the world now require children aged 12-15 to be able to provide proof of double vaccination before they will allow entry.The digital version will allow more families to be able to access evidence of their children's vaccination quickly and easily. Please do not contact your GP practice for a NHS COVID Pass.
For more information, please visit the NHS website - Getting a digital NHS COVID Pass - NHS (www.nhs.uk)
Thanks to the team at Crawley's Hindu temple
Local GP Federation, Alliance for Better Care (ABC), has expressed its thanks to the Apple Tree Centre team and all at the Gurjar Hindu Union after it hosted its final vaccination clinic at the site.
ABC began working in partnership with the team at the Hindu Temple in early 2021, when it became the first site to host ABC's vaccination bus. Soon after this, the Leacroft Medical Practice team relocated its vaccination programme to the site long-term and have since administered 100,000 covid and flu vaccinations at the venue.
They gave particular thanks to Bharat Lukka and his team, who not only helped to establish the site and welcomed ABC, but also catered for the staff attending each day.
If you have any questions, concerns, comments or suggestions please contact
Patrick Brady – Email plb11@btinternet.com Mobile 07977 50643