Gatwick-based Vail Williams promotes 15, relocates 3 offices and is now bigger than ever
Published: 17 Jun 2022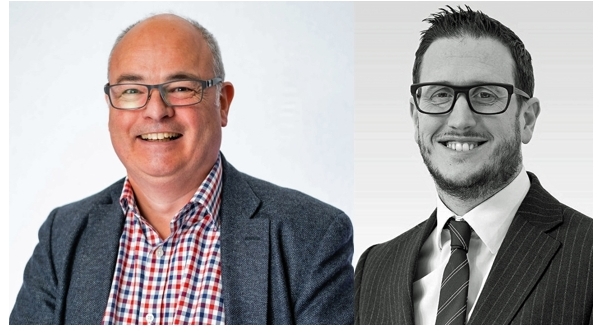 UPWARD TRAJECTORY: Vail Williams Managing Partner Matthew Samuel-Camps says the firm's 15 promotions reflect continued strategic growth, market confidence and outstanding personal contributions 
NEW LLP MEMBER: Danny George, Gatwick Regional Managing Partner at Vail Williams, has been elected to the LLP
Growing Vail Williams promotes 15
Expanding Gatwick-based property consultancy Vail Williams has elected a new LLP member and made 14 other senior promotions as business demand drives strategic growth.
This follows the 169-staff firm – the largest it has ever been – relocating three of its 10 regional offices to new premises in the last six months, as well as reporting end of financial year continued growth and increasing turnover.
Danny George, Vail Williams' Gatwick Regional Managing Partner and national business rates consultancy lead, has become the firm's 16th LLP member. He has been with the firm since 2016.
Managing Partner, Matthew Samuel-Camps said: "Danny's appointment is in recognition of his very strong contribution to our business on all fronts. He has performed exceptionally in his roles, led and delivered positive change and upheld our values."
Also in the Gatwick region Greg Winston-Bray (rating) is promoted to surveyor and Jason Morris Kidd (valuation) to associate. Both are based in Crawley.
The other promotions are right across the firm's regions and service areas.
London: Toby Orpen-Palmer (building consultancy) promoted to surveyor.
Midlands & North: Freddie Eastman (valuation) surveyor; Oli Muscutt (agency) surveyor.
South Coast: Matt Cureton (agency) surveyor; Sara Williams (property asset management) associate.
Surrey: Holly Vos (building consultancy) associate; James Williams (planning) associate; Jas Lall (PAM) surveyor.
Thames Valley: Andy Baillie (agency) associate; Dan Reynaldo (building consultancy) senior surveyor; James Newton, (agency) surveyor; Mark Riley (property asset management) facilities management lead.
Matthew added: "These promotions across our business recognise outstanding personal contributions to our business growth and individual and team self-development, as well as new responsibilities.
"We have recruited 32 new members of staff in the last 12 months, are about to embark on a new three-year business plan and our shareholders have backed the board to deliver further growth so we expect to continue to recruit.
"We have just closed our financial year and the figures are still being crunched, but I can say that we have grown significantly, achieved an excellent turnover and are on an upward trajectory – which reflects the investment that the business continues to make in people and our premises and the loyalty of our clients."
The end of financial year promotions come after Vail Williams relocated its Bournemouth, Thames Valley and London offices.
Matthew added: "We know there are short and long-term challenges ahead, not least inflation and strong concerns over the robustness of the economy, but with those challenges come opportunities.
"Our modus operandi has always been to grow in a sustainable manner. We remain very confident around our own ability – we grew through the pandemic as a firm – and I am sure we will be able to weather any short term storm.
"Longer term there are so many changes in the market place, driven by trends accelerated by the pandemic that have a significant impact on businesses' property needs. It is that significant disruption to this market place which creates opportunity."
Matthew said the industrial market continued to be subject to very high levels of occupier demand (particularly for last mile delivery and greater inventory requirements) while supply remained constricted.
The office market was facing constant changes around the flight to quality with businesses acknowledging the need to provide a high quality working environment to attract and retain the top young talent.