Horizons: Innovation in Manufacturing and Supply Chains
Published: 15 Sep 2022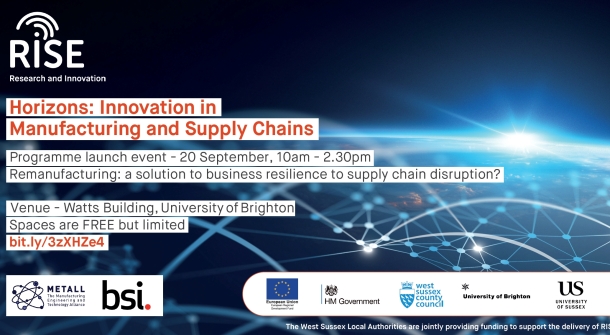 It's widely acknowledged that businesses in the Manufacturing and Supply chain sector have been one of the hardest hit following the challenges of the pandemic and Brexit. 
With this in mind, West Sussex County Council has prioritised funding for small and medium-sized businesses (no more than 249 employees) to receive specific innovation support to recover and boost growth.
If you are…
a leader or senior manager in the Manufacturing or Supply Chain sector with responsibility to drive innovation in the business?
determined to recover and grow following the challenges of Brexit and the pandemic?
looking to create a new, or adapt an existing, service, product or business models?
a small or medium-sized business or Social Enterprise including Community Interest Company or Charity with a trading arm, based in West Sussex?
…then this completely free programme could be for you!
The Programme – Starting 20 September 2022  
Developed in partnership with The Manufacturing, Engineering and Technology Alliance (METALL), this programme has been designed to provide you with sector specific insights and innovate tools to help you turn challenges into market advantages.  
The Horizons programme will consist of FREE to attend masterclasses and workshops in the following areas:
+ Introduction to the Future of Manufacturing & Supply Chain – state of the art review of the sector
+ Understanding how AI and Blockchain can help traceability of supplies
+ Optimisation of manufacturing processes
+ The value of data analytics and Internet of Things and how machine learning can help
+ Sustainability and Net Zero support
+ Diversity and inclusivity to attract new staff and customers
+ How to start to implement innovation projects
+ New technologies for enhancing business operations 
+ New technologies and trends in supply chain management
+ R&D Tax Credits – Carpenter Box
+ Protecting Intellectual Property – DMH Stallard
The programme launches at the British Standards Institution (BSI) Remanufacturing event on 20 September 2022 at the University of Brighton.
Remanufacturing: a solution to business resilience to supply chain disruption?
Industrial and academic speakers will talk about future challenges faced by manufacturing industries and the latest innovations in remanufacturing and will include 'real-life' examples of how remanufacturing has helped to expand and improve their businesses and increase supply chain resilience as well as mitigating risks associated with global events such as pandemics or economic turbulence.
Register your interest in the programme, using the link button on the right, and we will send you more information.
Action Learning Sets
The programme will also include two Action Learning Sets to support participants with the challenges and ideas arising from the sessions.
Action learning is a specific process where individuals get together with a facilitator to share business and organisational challenges and get the benefit of pooled advice and expertise from peers.
How long is the programme?
To get the maximum value from this unique opportunity businesses will need to undertake a minimum of 12 hours of support – this could be made up of masterclasses, workshops, action learning and 1-2-1 support from our Innovation Advisors. Horizons activity will run up to Jan 2023 and further RISE support will be available until the end of March 2023.
If you have any questions about the RISE project or the Horizon programme, you can get in touch with the team at rise@brighton.ac.uk
Access up to £5000 to support your project development
The programme culminates with an opportunity to further explore new business ideas and opportunities through a research and development project, working with subject experts from the university of Brighton or Sussex, to the value of up to £5000, at no cost to the business.
Through our funding we can directly pay for the time of our top academics in the areas of expertise you need to work directly on your projects. It's a simply process that includes our Innovation Advisors working with you to scope your project and map the skills and expertise needed -with the unique opportunity of having access to two pools university experts to choose from.
Please note: The Access to Expertise part of this programme is only available for eligible SMEs based in West Sussex.  
How does the Horizon programme work?
Our Horizons programme is a series of inspiring, thematic and sector specific workshops, created to share cutting-edge research and insights to help develop innovative approaches that will enable you to build resilience to national and global challenges within your business.
Call launched
Attend an introductory webinar on the theme
Complete 12 hours or more of our thematic workshops to gain deeper insight
Book a free innovation audit or assessment with our advisors to explore your ideas
Scope your project based on new knowledge and understanding
Apply for Access to Expertise support
Advisors source university expertise and develop the project brief
Project undertaken; innovation activated
If you would like to know more about Horizons speak to our Innovation Advisors.
https://rise-innovation.uk/horizons-innovation-in-manufacturing-and-supply-chains/