MPs show support for new St Catherine's Hospice
Published: 12 May 2022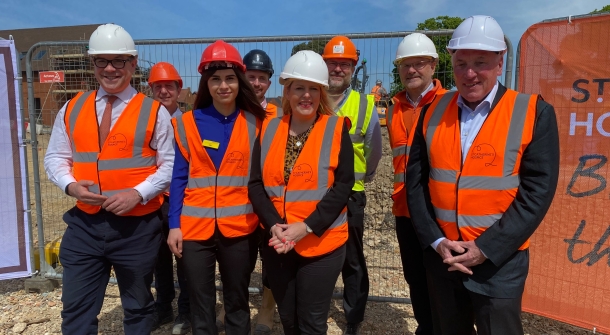 Mims Davies, Mid Sussex Conservative MP and Parliamentary Under Secretary of State for Employment at the Department of Work and Pensions and Jeremy Quin MP for Horsham and Minister of State at the Minister for Defence Procurement (MOD) met with Trustees and staff from St Catherine's Hospice to find out more about how a larger hospice at Pease Pottage will transform end of life care for local people.
Building work on a new St Catherine's Hospice at Pease Pottage is already underway. The MPs visit to the new hospice site fell during Dying Matters Awareness Week, which seemed an apt time for the two MPs to learn how the new, larger hospice will allow St Catherine's expert teams to care for more people. They saw visuals of the new hospice and learnt how the new building allows for the expansion of hospice, community, wellbeing, emotional and bereavement care across their constituencies.
As people live longer with more complex illnesses, the new St Catherine's will provide 24 beds on two wards, an increase from 18 beds in the current hospice, and all rooms will offer people a peaceful private garden and ensuite bathroom. 12 rooms will have adjoining sitting rooms for families to stay overnight and there will also be family spaces for relatives to relax.
Staff from St Catherine's shared how extra beds at the new hospice will also allow them to support the work of wider NHS and local healthcare systems. They will do this by providing step-down care for people coming out of hospital who aren't quite ready to return home. They will also offer respite care to give carers a break from caring for someone they love at home. This will ease pressure on the NHS by helping to stop unnecessary hospital admissions.
As well as supporting the work of wider local healthcare systems the new hospice will offer more space for outpatient appointments.
Terry O'Leary, Chair of Trustees at St Catherine's said, "It was great to spend time telling Mims and Jeremy more about our ambitious plans for our new hospice. The new hospice will allow us to provide enhanced hospice care for generations to come. It will also mean we can meet increasing demand for care whilst supporting other local healthcare and NHS systems."
To find out more about the work of St Catherine's please visit: www.stch.org.uk or to make a donation towards the new hospice visit www.stch.org.uk/newhospice or call the St Catherine's Fundraising Team on 01293 447361.