National Children's Gardening Week (28 May – 5 June 2022)
Published: 25 May 2022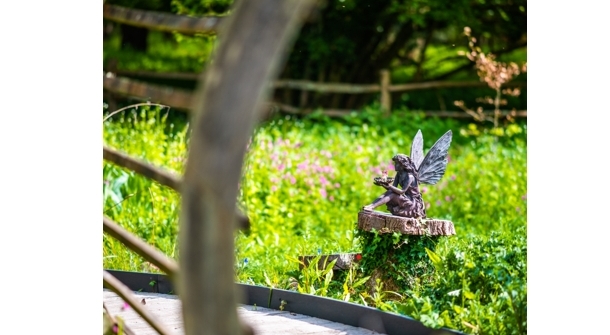 From bug hunts to planting and exploring, gardens and outdoor spaces offer so many opportunities for children and are an important part of Chestnut Tree House and children's hospices across the UK. At hospices, the gardens are places where children, young people and families, who are often under considerable stress and pressures, can go to relax, reflect, have fun and be close to nature – all while being within a safe environment.
Many people take for granted the simple pleasure of being able to enjoy a garden or go for a walk in the woods, but outdoor spaces aren't always accessible for children and young people with complex medical and sensory needs. Having an accessible outdoor space is precious and something that Chestnut Tree House offers for the children and families they care for.
"We have lots of different areas at the hospice, such as a playground, meadow garden, and Woodland Walk," says Ollie Field, Gardener at Chestnut Tree House. "Each area serves a different purpose – from calm, restful spaces to fun places to learn and explore. A big part of my role is making the gardens at Chestnut Tree House as accessible and sensory as possible. All the outdoor spaces are fully accessible to our children and young people, and have sensory stimulation at the forefront of the design. This might mean different plants to smell, various surfaces to touch, or water features to listen to."
One of the most popular outdoor areas at Chestnut Tree House is the Woodland Walk. "Many of the children we care for are unable to visit 'regular' woodlands as they are often inaccessible to wheelchair users," explains Ollie.
In 2014, Chestnut Tree House worked with Greenfingers charity to create their Woodland Walk. It's a space that is accessible year-round for children and young people in wheelchairs and beds, and gives individuals the opportunity to enjoy the sounds, smells and sights of the woodlands.
"The Woodland Walk offers a space to feel like you're out in the wild, amongst the trees, or camping in the woods and searching for creatures," continues Ollie. "There are all sorts of things going on, including a squirrel maze, bug hotel and dedicated bug zone. The children love going on bug hunts and exploring nature! It's also a great space for storytelling, playing or just going for a stroll."
The gardens are an important part of Chestnut Tree House, and all the bedrooms look out onto them. "Families often tell us how much they enjoy spending time here because of the beautiful grounds," says Ollie. "We are privileged to have access to this outdoor space, which provides so much benefit to children."
To find out more about Chestnut Tree House, visit www.chestnut.org.uk.